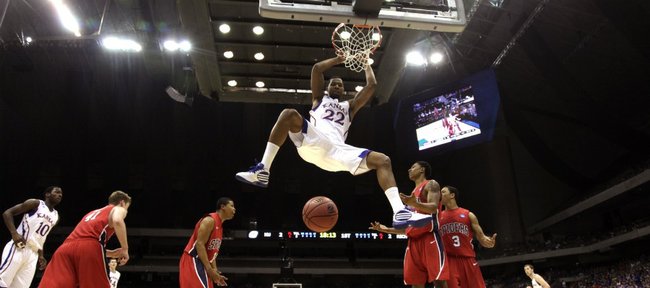 San Antonio — An animated Markieff Morris took control of Kansas University's five-player huddle before the opening tip of Friday's emotional NCAA Tournament Sweet 16 game between KU and Richmond.
"I saw Kieff screaming and yelling. He was fired up. It got us hyped, man," KU junior Tyshawn Taylor said after the Jayhawks' 77-57 runaway victory over the Spiders at the Alamodome.
Morris, who scored five points and grabbed six rebounds in 17 foul-plagued minutes on a night Brady Morningstar exploded for 18 points, said he wasn't trying to rid the team of any pregame jitters with his vocal display.
He was simply mad as heck and wanted to convey that sentiment to his teammates, who raced to an insurmountable 31-9 lead.
"Them not trying to shake our hands at halfcourt was the main thing that fueled us to start out. We felt a little disrespected," Markieff said.
He was referring to introductions in which one player from each team was to be introduced, with the two opposing players meeting at halfcourt for fist bumps.
"They probably didn't mean it, but we still noticed it. It definitely fueled the fire. That definitely got me riled up. They made us mad. I really think we'll play mad from here on out," Morris added.
The handshake situation came moments after cameras caught the Jayhawks and Spiders barking at each other in a crowded Alamodome tunnel leading out to the court.
The No. 12-seeded Spiders (29-8) were jumping up and down in the hallway and blocking the No. 1-seeded Jayhawks' path.
KU's players waited awhile, then finally made their way through the Spiders' web. KU's Thomas Robinson, Mario Little, one of the Morris twins and Royce Woolridge were caught on tape yapping with some equally vocal Spiders.
The incident was shown during the national telecast of the game.
"I guess that's what they do before games. They were dancing. Coach was trying to get us to hustle out," Markieff Morris said. "We were trying to get out. They were trying to not let us out. A few words were exchanged, and then we ran out."
Self said the hallway run-in was much ado about nothing.
"There were two teams coming out at the same time," he said.
"It's what happened yesterday when somebody reported some crap which is totally ridiculous and sends a wrong message. That got way too much play, a lot more than it should have."
He was referring to Marcus Morris saying, "You boys better be ready," to a cart of Richmond players driving by on the way to the interview room Thursday at the Alamodome.
Marcus Morris, who scored 13 points off 4-of-10 shooting with seven rebounds and three assists, agreed with his coach that Friday's hallway run-in was overblown.
"Everybody was laughing about it. The other team was laughing there. We had an exchange of words. It's all fun and games," Marcus said.
The Jayhawks definitely let their actions speak volumes Friday in advancing to Sunday's 1:20 p.m. Elite Eight contest against Virginia Commonwealth.
"We jumped on them early," Marcus Morris said. "We did a great job early. Tyshawn did a great job on Anderson (Kevin, point guard, 13 points on 5-of-17 shooting). We tried to control the game, speed them up and make them play our game."
Noted Markieff: "We tried to take their guard out of the game. Tyshawn did a great job. He changed the pace of the game."
KU senior Morningstar had seven points, while freshman Josh Selby hit two threes in a 21-2 run that gave KU its 31-9 lead. KU extended the run to 25-4 to take a 24-point lead (35-11) with 4:39 left in the half.
Richmond sliced the gap to a workable 15 points (37-22) with 1:27 left in the half following an 11-2 run.
The Jayhawks led, 41-22, at halftime behind a stout defensive effort that held Richmond to 29 percent shooting (9-for-31 overall and 3-for-14 from three). KU hit 50 percent of its first-half shots and made five of 10 threes.
"I feel like a couple of us were open. Me and Tyrel (Reed, six points, 2-for-4 three-point shooting) hit some open shots, and when they started to fall, they did a good job penetrating and kicking it. My team gave me the ball, and I was knocking it down," added Morningstar, who made four of seven threes.
Morningstar was called for a technical for woofing at Richmond's Kevin Smith after hitting a second-half three.
The two moments earlier had words on KU's defensive end.
"I got ahead of myself. I'm not good enough to run my mouth after I make a shot," Morningstar said. "That's basically what it is. A mistake on my part. I apologize for that."
Self wasn't amused.
"They got into it on the other end. The officials talked to them. A 25-year-old should know officials will be looking at the next deal," Self said. "That was not smart at all. I probably used a different term (in talking to Morningstar). But Brady played great."
Up by 19 at the break, the Jayhawks were never seriously threatened the second half.
"The first half today ... that was a pretty good basketball team playing," Self said. "I didn't like the way we finished the game. It wasn't a giddy or happy locker room. I think we should enjoy it. We came here to win two games. We're only halfway home. We know the next game will be the hardest we've played so far in the NCAA Tournament."
Markieff Morris thinks the Jayhawks will be raring to go.
"I think we are hungry," Markieff said. "I think we are scared to lose. A lot of people talk about the seeds we are playing and how we play to the level of our competition in the tournament, it's lose or go home. We don't want to go home."
More like this story on KUsports.com