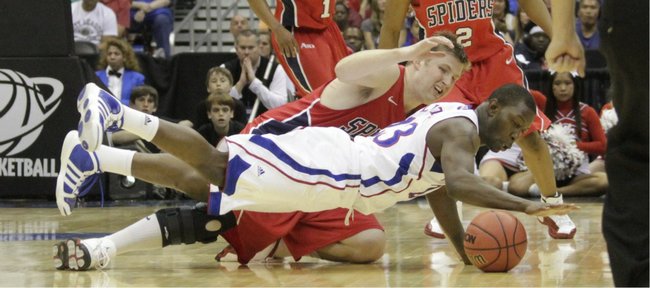 San Antonio — In the moments following Richmond's 77-57 loss to Kansas University in the Sweet 16 at the Alamodome on Friday night, a media-relations official informed Richmond senior Kevin Smith that he had to stick around the locker room until 8:52 p.m.
Smith wasn't happy.
In addition to dealing with the emotional crash that came with the end of his college career, Smith was peppered with questions from reporters about the handful of confrontations between the Jayhawks and Spiders that started during pregame in the 12-foot-wide tunnel, carried over to introductions and finally subsided late in the second half.
For a game decided by 20 points, there were quite a few intense moments.
During pregame, as the Spiders huddled in the tunnel, the Jayhawks attempted to run past them, and pushing and shoving ensued. Security guards jumped in to separate the teams and restore order.
"It's a man thing," Smith said. "Would you let a man walk through you? I wouldn't think you would. They thought they were playing some boys with that one. But that's before the game, and that has nothing to do with the 40 minutes that were played."
Added Richmond forward Josh Duinker, who was seen shoving KU's Thomas Robinson in retaliation during the off-the-court encounter: "It's a narrow tunnel, and (Kansas) was right behind us coming through. People were just excited for the game, so things got kind of tangled up a bit, but nothing serious. It didn't get under our skin at all. That's not the way we do things."

The mini-fracas then spilled onto the court. First, Robinson and UR senior Dan Geriot brushed shoulders during warm-ups.
Then, during introduction of the starting lineups, KU junior Markieff Morris and Smith whiffed on the customary handshake at mid-court. Smith rolled his eyes and laughed it off. Morris did not react.
Later, Geriot and KU senior Mario Little also were tangled up and had to be separated. That one was more a product of NCAA-Tournament-style hustle than trash talk.
In the second half, KU's Brady Morningstar carried the torch in the trash-talk department. At one point, after Morningstar's terrific defense forced Smith out of bounds, the KU senior popped the ball out of Smith's hands, and words were exchanged. One official called the two together for a warning.
Seconds later, Morningstar drilled a three-pointer over Smith that put Kansas ahead, 63-38. He instantly began barking in Smith's direction. Morningstar was hit with an immediate technical foul. Smith was hit with more frustration.
"He made like a noise," Smith said. "I don't know. It was some kind of noise. He said it running away each time. You can put that in there if you want to."
Knowing that no more yapping would be tolerated, Morningstar let his eyes do the work after another three-pointer a few minutes later. Instead of telling him about it, Morningstar simply glared at Smith as he ran back on defense. Smith did not react.
"We didn't worry about that," Smith said. "If they want to talk, that's them. We came here to do the things we needed to do to win the game, and they came here to do the things they needed to do, plus some. Good luck to 'em. If they find someone in the tournament they think they can talk to like that … but we weren't gonna back down."
All week, the Spiders kept the focus on what they had done to get here and refused to let the star power of top-seeded Kansas get in their heads.
But Richmond looked rattled during the game's opening minutes, and KU roared to a 35-11 lead befitting the top seed and second-ranked team in the country.
Smith insisted that the Spiders' poor start had more to do with his team missing shots and was not a product of any of the mix-ups.
"We just couldn't get out of the mud," he said. "You'd have to look it up, but I can't imagine when the last time we shot that poorly was. It's tough."
Although the game got out of hand in spots, Richmond coach Chris Mooney said the minor altercations should not be the lasting impression from KU's latest victory.
"They're a great team," Mooney said. "I think it's an iconic program, and (KU) coach (Bill) Self is one of the very best coaches in college basketball. It's a first-class program. What gets in your head is the record and the statistics and just how good they are."
As the Richmond locker room cleared and the reality of the dream season coming to a close settled in, Smith was heard asking one final question.
"Is it 8:52 yet?" he said.
More like this story on KUsports.com