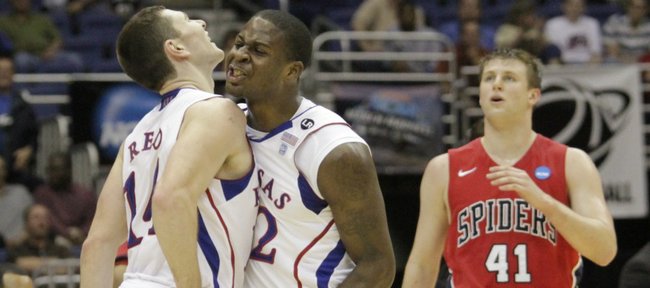 San Antonio — Kansas University freshman Josh Selby didn't think he ever could get as riled up as teammate Markieff Morris was during the team's huddle right before KU's game against Richmond on Friday.
"Kieff was so pumped up, some drool was coming out of his face," Selby said with a laugh. "So I'm like, 'Kieff, man, you've got to watch that. That almost got on me.'"
The joke ended up being on Selby a little bit later in the Jayhawks' 77-57 victory over the Spiders.
After Selby knocked down consecutive three-pointers to put KU ahead 25-9, Richmond called timeout, and Markieff couldn't help but notice something funny after Selby stopped celebrating.
"He had a little spit on his face," Markieff said with a smile. "So I told him, 'Hey man, come here, you've got spit on your face. Use my shirt. Wipe your spit off your face.'"
Markieff, who had two fouls and knew he would be sitting on the bench for the remainder of the half, offered his jersey to Selby so he could clean up.
Here's Selby's take: "I was so hyped up, he said drool was on my face. So, I don't know, we were just both into the game. It was just a heat-of-the-moment thing."
Selby had plenty of reason to be excited Friday.
The Baltimore native broke out of a 4-for-24 three-point shooting slump, making three of five threes against Richmond.
"Josh was really good. He guarded well, too," KU coach Bill Self said. "He's really labored with his shot. It looks the same to me, it just hasn't been going in. I thought that was big for us tonight for him to get a couple down early."
When Selby first checked into Friday's game, Markieff Morris told him to play confidently and told him that the team needed him.
Selby said the words helped him, as he hit his first two shots.
The 6-foot-2 freshman finished with nine points on 3-for-9 shooting — his highest point total since a 14-point effort against Texas Tech on Feb. 1, a span of 11 games.
"He was in a slump for a while, but we still need him," Markieff Morris said. "He's still a big part of this team, and he's still a great guard to have.
"One game where we don't have anything going, he's going to be that guard we can go to. He's going to put a spark into us."
More like this story on KUsports.com