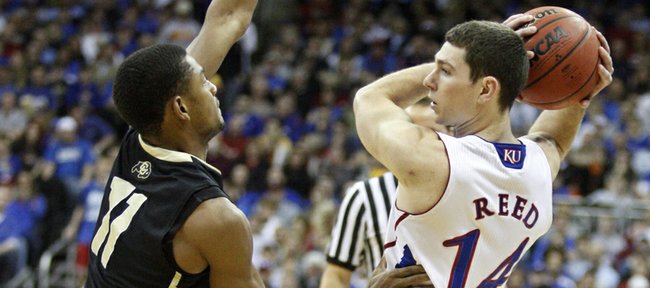 Kansas City, Mo. — On a night Kansas University, the nation's second-ranked basketball team, defeated Colorado, 90-83, Friday in the Sprint Center and ran its record to 31-2 and its two-year mark to 64-5, it rode its preferred inside-out approach to scoring.
Balance and depth of talent make coach Bill Self's teams hard to guard year in and year out. Still, even though balance is the goal, it's always nice to have one player the team knows it can count on to deliver the big shot when things get a little dicey.
Long before he hit the three-pointer that sent the national-title game into overtime three years ago, Mario Chalmers had established that sort of trust from teammates. Tyrel Reed's that guy on this year's team.
"I think Tyrel's more of a spot-up-and-we'll-get-you-the-ball-type shooter," teammate Brady Morningstar said. "Mario had the ball in his hand and would come off a screen-and-roll and pull up and hit a shot, but both those guys have hit a ton of big shots. And I think on this team, if we need a three, it's probably going to Tyrel."
Tyshawn Taylor, who in having a big night off the bench had no trouble getting to the paint and making things happen by scoring, dishing to teammates and getting to the free-throw stripe, knew where to send the ball late when hard-to-kill Colorado kept hanging around.
Taylor found Reed twice late for three-point shots, and Reed made both of them, pushing a nine-point lead to 12 points both times. The first came from the right corner with 4:22 remaining, the second from the left corner with 2:14 left.
For a guy who doesn't have the basketball in his hands very often, Reed certainly knows how to impact a game. He either takes an open shot, keeps the ball moving with a quick pass or makes a quick decision to drive. He moves so efficiently without the ball that teammates know just where to find him and when. The same goes for Morningstar. Mix in Marcus and Markieff Morris, and it's tough to find a college basketball team with four players who mesh such high basketball IQs.
Morningstar and Reed, given the two most challenging defensive assignments Friday, showed they know how to play efficiently at that end as well, though Alec Burks began to get the better of Morningstar at the end.
Reed pestered Colorado's Cory Higgins into a 1-for-11 shooting performance in which he scored six points, one night after he lit up Kansas State for 28 points.
"Whoever was guarding him at the time did a good job of keeping him in front of them and forcing him into tough spots," Reed said, careful to avoid blowing his own horn.
His coach gave Reed the credit he wouldn't give himself.
"Tyrel's a modest kid," Self said. "Tyrel guarded him. That's the bottom line. We had a couple other guys guard him a few possessions, but that was Tyrel's job."
Reed and Morningstar have a habit of outplaying stars who have bigger names and glossier statistics. Not always, but more often than most realize.
"If you would have told me going into the game that Tyrel would get 15 and the guy he guarded, who was arguably one of the best offensive players in our league, would get six, I would say that definitely shifted the scale to our favor," Self said. "So I thought he did a great job on him."
Morningstar likely draws the toughest assignment in tonight's hoped-for Big 12 tournament final against Texas. Jordan Hamilton will have a big size advantage. Morningstar's accustomed to such on-paper disadvantages and so often carries out the task so well. It will be just one of the fascinating subplots in tonight's Big 12 title game between the schools that compete nearly ever year for the regular-season crown.
Kansas didn't get its desired rematch with Kansas State, but is eager to pay back the Texas team that ended its 69-game Allen Fieldhouse winning streak.
Between games, Markieff Morris crossed paths with Texas players in the hall outside the court and told them, "I hope you're next," echoing the sentiments from all Longhorns and Jayhawks.
Just before Texas tipped off a 70-58 victory against Texas A&M;, Morningstar was informed of what Markieff had said and agreed: "I'd like to get another crack at them for sure."
And if it comes down to a final shot for KU and Reed takes it, the spectators in burnt orange ought to be more nervous than those in blue.