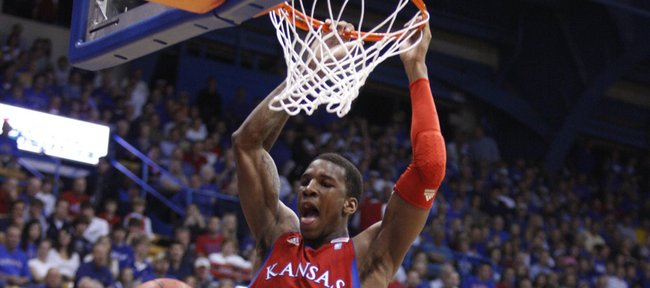 Emporia State forward Christian "Boo" Jackson came away most impressed by Kansas University forward Thomas Robinson following KU's 90-59 exhibition victory over the Hornets on Tuesday.
"I got a chance to watch him grow up, and I'm proud of him," Jackson said. "He's doing a great job here at Kansas."
The two know each other after growing up in the Washington, D.C., area.
Jackson, who is a few years older than Robinson, said there were times in his hometown that he'd stick around to watch Robinson play for a younger team.
"He always was bigger than the guys in his class. He was also strong," Jackson said. "Maybe he couldn't finish as well as he can around the basket now, but he definitely had that drive. He definitely had the willingness to learn and get better."
Jackson said he's seen improvement in the 6-foot-9, 237-pound sophomore since then.
"He's an ox. He's a beast," Jackson said. "Thomas Robinson, he's strong. He definitely has a chance to go to the next level."
The two forwards talked to each other before the game, wishing each other luck.
Both finished with nice statistical lines.
Robinson posted 12 points and 10 rebounds, while Jackson led ESU with 18 points and four rebounds in 24 minutes.
Jackson, a 6-5 junior, said it was a struggle against KU inside.
"Their bigs impressed me a lot — their strength and size, their ability to move and their ability to defend," Jackson said. "Both of the Morris brothers played their tails off. (Mario) Little, all those guys gave it their all."
Still, it was Robinson who gave Jackson the fits.
"He's on a great track," Jackson said. "I think he's on a great track, and Kansas is on a great track. I think they're going to have a successful season this year."
ESU trailed just 28-20 in the first half but managed just one field goal in the final 81⁄2 minutes before the break.
"When you come into a facility like Kansas, you're playing against 12, 13 All-Americans. Six-10, 6-5, 6-8," Jackson said. "It's tough. So what you try to do, you try to not read into their size, read into their athleticism. You try to slow the game down, and you try to compete."
After falling behind 44-26 at halftime, ESU settled down offensively in the second half.
The Hornets made 13 of 25 shots in the second 20 minutes (52 percent).
"We started doing some things we talked about in the first half," ESU coach David Moe said. "I think you get used to the environment. Once you get down like that, you get a little determined to do the right things."
• A previous version of this story was updated.
More like this story on KUsports.com