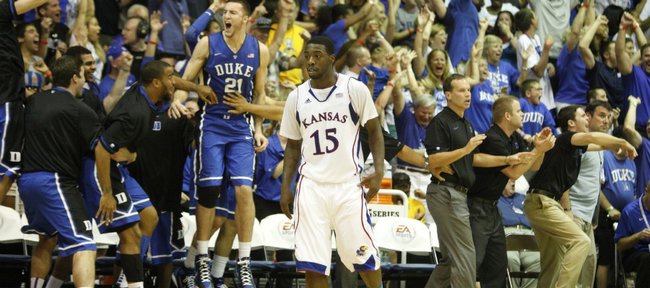 Podcast episode
KU coach Bill Self, Thomas Robinson and Jeff Withey talk in the postgame press conference following the Jayhawks' 68-61 loss to Duke on Nov. 23, 2011.
KU vs. Duke
Lahaina, Hawaii — Duke remains perfect in paradise.
Kansas University's scrappy basketball team pushed the Blue Devils to the brink — leading at one point by seven in the second half — but ultimately fell victim to a pair of dramatic late threes by Tyler Thornton, 68-61, Wednesday in the finals of the Maui Invitational.
Duke improved to an amazing 15-0 all-time at the tourney, with five titles to its credit.
"Everything was perfect ... just the wrong team won," KU coach Bill Self said, forcing a smile after his team fell to 3-2 overall.
"We're obviously very disappointed we didn't win the game. It was a great basketball game that came down to one possession, the way most great games do. Duke made three threes in the last two minutes that were remarkable. I'm proud of our guys. They fought hard. I can't imagine a better atmosphere than that for a championship game."
Duke's last two threes — which followed a trey by Andre Dawkins that gave Duke a 60-58 lead — were shots fans of both schools will be talking about a long time.
Thornton's first three was a direct answer to an Elijah Johnson trey that gave KU a 61-60 lead at 1:31. Thornton headed to the corner, where he delivered at 1:04, giving the Devils a 63-61 advantage.
The Devils again took possession after Tyshawn Taylor (11 turnovers, 17 points) kicked the ball out of bounds up top while being pressured by Ryan Kelly (17 points). Thornton accepted a pass from Seth Curry in the corner — it appeared Curry traveled before dishing — and hoisted an off-balance shot as the shot clock neared zero.
Swish.
"It was the ballgame. I mean, that was game. That was game," was the response of Self to the trey that swished with :20.4 left.
"I thought we we were guarding him pretty good," he added. "The last one, we couldn't have guarded it any better. That was unbelievable. We didn't expect him to jump up and shoot a ball like that in the tournament. That was just a great play by an individual.
"The one late ... I don't know if he saw the rim when he shot it, but it was a heck of a shot. It was an unlucky break for us," added Self, who did not blast the officials for not calling a possible walk on Curry.
KU's Thomas Robinson was the only Jayhawk to make the all-tournament team following his 16-point, 15-rebound performance. Jeff Withey was huge with 14 points and 10 boards.
"I thought Jeff was outstanding. I thought he was a presence," Self said.
A dejected Robinson, who had to be helped off the floor by Travis Releford at game's end, said he was proud of KU's effort.
"I've not been around a game like that. I believe it will go down as one of the top games the tournament has ever had," Robinson said. "We got the short end of the stick, but we'll move on."
KU led as many as seven, 41-34, early in the second half. A 43-37 lead was erased following a 12-3 Duke run.
Mason Plumlee and Kelly had 17 each for Duke, while Austin Rivers had 10. KU hit 42.9 percent of its shots with 17 turnovers against six assists. Duke hit 39.3 percent with 13 turnovers against nine assists.
KU led, 35-31, at halftime, thanks to a spirited inside effort from Withey (10 points, six rebounds, 16 minutes) and Robinson (nine points, eight boards, 17 minutes), as well as the guard play of Taylor, who had 13 points off 4-of-7 shooting. Taylor hit five of six free throws.
Duke hit just 42.9 percent of its first-half shots, with Kelly scoring nine and Rivers eight.
KU had a half-high lead of six points. The Jayhawks led, 30-29, following a three by Rivers. What followed was a 5-0 run with Taylor scoring all five — first off a basket and foul shot, then two free throws. KU could have expanded on that lead even more if not for three turnovers following that possession.
At game's start, Duke punched KU in the jaw. Actually, Ryan Kelly hit Robinson in the jaw after Kelly released on a shot from the corner on the first possession. Robinson needed a minute to get checked out on the bench before returning.
KU, however, was the aggressor immediately after that, grabbing an 8-3 lead that would have been 10-3 had Travis Releford finished an inside shot.
Withey totaled eight points, including one off a nifty hook and another on a vicious dunk in helping KU to a 14-11 lead at 11:48.
The game was tied at 19 at 9:04 when Duke scored five unanswered to go up by five, 24-19, at 8:03.a basket by Taylor and three by Elijah Johnson.
KU fell to 9-6 all-time in Maui. KU will meet Florida Atlantic at 7 p.m., Nov. 30, in Allen Fieldhouse.
More like this story on KUsports.com