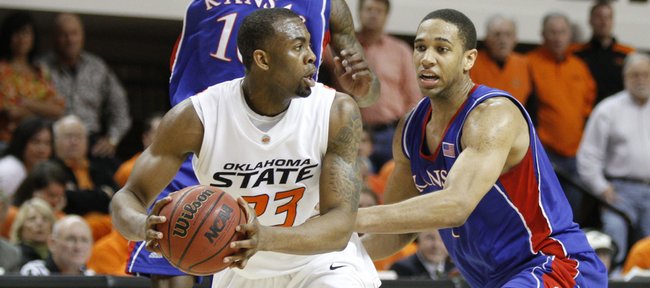 Stillwater, Okla. — Oklahoma State coach Travis Ford said he didn't sleep well Friday night. The reporters laughed, thinking he was joking.
"I really didn't," Ford said — without cracking a smile — following OSU's 85-77 upset of No. 1 Kansas University on Saturday.
The coach had reason to be worried Friday night.
During that day's practice, Ford directed his attention elsewhere for a few seconds before turning around to find forward James Anderson lying on the court while getting stretched out by a trainer.
Ford made his way over to his team's best player.
"You all right?" Ford asked.
"No, coach," Anderson told him. "My back is killing me."
Anderson was suffering from back spasms. If he moved the wrong way or leaned back at the wrong angle, he became stuck in that spot and couldn't move.
After his restless night, Ford couldn't help but get an early start Saturday.
"I was waiting on him this morning," Ford said. "I got here and waited on him. I went in the training room with him."
Still, the news wasn't what Ford was hoping for.
When Ford asked Anderson how he was doing, the coach hoped that his star player would say that he was great, even if he was hurting.
Instead, the 6-foot-6 junior gave an honest answer: "Coach, it's a little better, but it's really bothering me. Really bothering me."
Anderson couldn't even make it through his early-morning shoot-around.
"Honestly, we didn't know if he was going to play or not," Ford said. "As of last night, I didn't think there was a chance."
Anderson not only overcame the odds, he also overwhelmed the Jayhawks on Saturday.
With the adrenaline of a big game running through him, Anderson played 36 minutes, scoring a game-high 27 points on 9-for-19 shooting. He also went 4-for-6 from three-point range and helped hold KU's Marcus Morris to 10 points.
"I was going to play regardless," Anderson said. "It could have been a broken leg, I was going to drag it all the way down the court."
Though Anderson wouldn't address the question, teammate Obi Muonelo wasn't shy about talking about Anderson deserving the Big 12's player of the year.
"No question," Muonelo said. "He's been unbelievable the whole year.
"I don't think he's had an off night."
He definitely didn't have one against the No. 1 team in the nation.
"You saw what we did. We were trying to get him the ball every single time down the court, especially in the last five minutes of the game. Let the ball be in his hands. Play off him," Ford said.
More like this story on KUsports.com