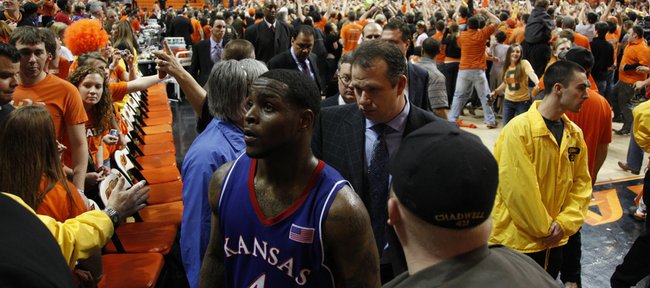 Stillwater, Okla. — Nick Collison, who played on the only basketball team to go undefeated in Big 12 Conference history, sat with his wife, Robbie, behind Kansas University's bench, hoping to see the 2009-10 Jayhawks continue storming toward that rare achievement Saturday afternoon in Gallagher-Iba Arena.
Instead, he witnessed the best shooting effort against a KU team in 20 years doom the Jayhawks to an 85-77 defeat to Oklahoma State, KU's first loss in 14 league contests.
"I've played in this game before ... the home team comes out and seems like it hits every shot," Collison said after the James Anderson-led 'Pokes drilled 61.3 percent of their first-half shots in building a 16-point halftime lead and finishing at 60.4 percent, best mark by a KU foe since Oklahoma went for 62.7 percent on March 10, 1990.
If it's any consolation, Oklahoma City Thunder power forward Collison can hardly believe any team — including his 16-0 2001-02 squad — could win 'em all.
"We were the only team to do it, right? It's not impossible, but it's tough to do," Collison said. "I don't know how we did it. This league is so good, with all the difficult places to play on the road, especially."
Collison had something in common with the 2009-10 Jayhawks.
He wanted KU to reach perfection.
"I want us to win every game for sure," he said. "My career is over with. I want us to win them all."
According to KU senior Sherron Collins, KU's first loss in league play with two games remaining was preventable. Sure, OSU hit 32 of 53 shots and 10 of 19 threes (Anderson was 9-for-19 from the floor and 4-for-6 from three for 27 points), but that's partly because of KU's effort on defense, he said.
"I didn't have the team ready. I'm the captain. I'm the senior. I should have had us ready to play. It's my full responsibility when the team goes down," Collins said.
He had seven points off 2-of-8 shooting the first half, then erupted for 15 the second half in helping KU slice a game-high deficit of 19 points (57-38 with 13 minutes to play) down to six (80-74) with just over a minute remaining.
"We weren't in the right mind-set," Collins said. "They outrebounded us (36-26 despite playing nobody taller than 6-8). They were tougher than us tonight. We prepared for their sets all week. We just didn't come out and execute."
KU coach Bill Self, who used Cole Aldrich just eight minutes the second half on a day he grabbed just five rebounds to go with 11 points, had various messages for his troops after he fell to 1-3 overall as KU coach in games at his alma mater.
"He didn't say too much. He said we deserved to lose. We got what we deserved," Collins said.
Also, "he talked to us (about) the last time we lost in this building we went on to win the national championship," said freshman Xavier Henry, who scored 17 points, 14 the second half.
Self tipped his cap to the Cowboys:"I mean it honestly, I don't see a lot of teams beating them if Page (Keiton, 15 points, 4-for-4 from three), Muonelo (17 points, four boards) and Anderson are that good. I don't. They've got something going that will give anybody problems."
That, he said, is the 6-foot-5 Muonelo being a matchup problem for teams as a quick 4-man.
Of course, Self also bemoaned the play of his own team.
"It was a very, very pitiful performance by us," Self said. "It doesn't matter that we outscored them the second half (48-40) because we never challenged them. I was happy our guys competed, and we got it down to six. It was not a true reflection on us controlling the half by any means. When you get outrebounded by 10 and the opponent only misses 21 shots, that's a formula for disaster on the road."
He went on....
"We couldn't make a basket when they got a lead. Those are times you have to guard. Our toughness level was poor," he said. "That can happen in the (NCAA) Tournament in a one-and-done deal. Hopefully we can learn and understand. We weren't ready to defend today."
Still, he refused to dwell only on negatives.
"The last time we came down here and left here sad, it turned out OK," he said of KU losing by one point two years ago in Stillwater, then going on to win the NCAA title. "I am believing we can get something out of it. I don't think the thing is broken. I do think we need to evaluate our things. We need to take great pride in the things that help us win, especially this time of year."
He said the biggest thing is for there to be no hangover heading into Wednesday's 7 p.m. game against Kansas State.
"We need to get back to being a tough, hard-nosed basketball team, which we weren't today," Self said. "I hope the guys don't feel like it's the end of the earth, which they shouldn't. I hope they are pretty disgusted and pretty mad about what transpired today. If that's the case, I think we've got enough fight in us we'll fight back."
As far as that undefeated thing ...
"It hurts. It also helps us realize we are not unbeatable," Henry said after KU fell to 27-2 overall and 13-1 in league play. OSU is 20-8, 8-6.
"It's all right. That doesn't really hurt us. Of course, it would have been nice to go 16-0," Collins said.
"Sixteen-and-0 sounds better than 13-1," soph Tyshawn Taylor said. "But we'll move on. I guarantee you we'll work hard at practice and try to learn from this. We have to be ready because K-State is coming in, and K-State is good."
More like this story on KUsports.com