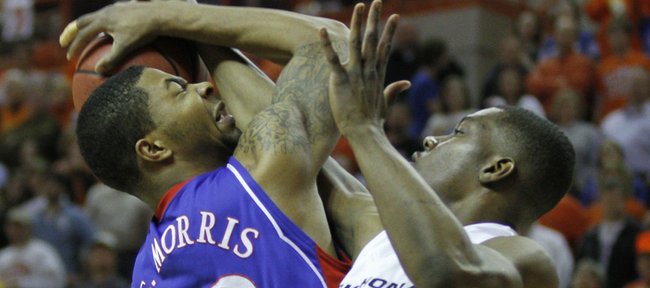 No outright title yet
Kansas University's basketball team failed to clinch the outright Big 12 title Saturday in Stillwater, Okla.
Kansas State's victory over Missouri in Manhattan kept the Wildcats in contention for a possible tie.
KU is 13-1 in league play. KSU is 11-3 with two games remaining.
KSU will meet KU at 7 p.m. Wednesday in Allen Fieldhouse.
No. 1 in the house
Saturday's game was Oklahoma State's first against a No. 1-ranked opponent in Stillwater in more than 20 years. OSU beat top-ranked Oklahoma, 77-73, on Feb. 4, 1989.
The fans celebrated the 'Pokes' eight-point victory over KU by storming the court. Several hundred orange-clad students hoisted sophomore guard Keiton Page on top of their shoulders, giving him a victory ride.
"It was a great feeling," Page said after scoring 15 points off 5-of-6 shooting. He was 4-of-4 from three.
"I was feeling a little claustrophobic. When they picked me up, I caught my breath. I thought I was going to pass out," Page said with a laugh.
Obviously, it's been a long time between games versus No. 1 teams at historic Gallagher-Iba.
"I was born in 1989," OSU standout James Anderson told the Daily Oklahoman before the game.
Anderson, a 6-foot-6 junior from Junction City, Ark., chose the Cowboys over the Jayhawks in recruiting.
He told the Tulsa World that both OSU and KU seemed "like a big family."
"Not besides the time I was getting recruited," he said, asked if ever envisioned himself a Jayhawk.
Anderson, by the way, played despite suffering back spasms at practice on Friday.
"Coach (Bill Self) told us at halftime about it. He just said he's killing us, and he wasn't even supposed to play," sophomore Marcus Morris said.
Tourney-bound
Oklahoma State surely clinched an NCAA Tournament bid by beating top-ranked KU. OSU is 20-8 overall, 8-6 in conference play.
"No question. We're a tournament team now," senior Obi Muonelo said after scoring 17 points off 6-of-13 shooting.
"It's not a relief at all," junior Anderson said after exploding for 27 points off 9-of-19 shooting, 4-for-6 from three. "With talent like this, we can play with anybody."
Just like Paul
Self was asked if Anderson reminded him of any other player. Ex-Jayhawk Paul Pierce of the Boston Celtics was the one who came to mind.
Henry's draft stock appears solid
The Daily Oklahoman surveyed many NBA Draft sites regarding the possible draft status of KU freshman Xavier Henry.
NBA-draft.com has Henry headed to Philadelphia with the No. 9 overall pick in the 2010 June draft. Others: nbadraft.net: No, 11, Minnesota; insidehoops.com, No. 12, Chicago; mynbadraft.com, No. 15, Minnesota; draftexpress.com, No. 15, Houston; nbadraftguru, No. 16, Chicago.
Henry entered KU as a probable one-and-done college player. He has said he's only thinking about helping KU win a national championship right now.
Donation
Oklahoma State mega booster T. Boone Pickens presented a $100 million check to the university at halftime after the university president announced that the school has started a campaign designed to raise $1 billion.
Don't give up
KU sliced a game-high deficit of 19 with 13 minutes left to six points with over a minute to play. KU trailed by 17 with just over seven minutes left.
"There's always enough time," Henry said. "We never panic. We keep playing. You never know what might happen."
Stats, facts
Self is now 6-7 all-time against Oklahoma State, 5-4 as coach of the Jayhawks. He's 1-3 as KU coach in Gallagher-Iba Arena. ... The loss halted KU's 13-game win streak. ... KU leads the all-time series, 102-53. The teams have played to a 31-31 deadlock at Gallagher-Iba. ... KU is 13-6 versus OSU since the Big 12 began in 1996-97. ... Self is 196-42 at KU, just four wins from 200. ... Sherron Collins moved into seventh place on the all-time KU scoring list. His 22 points against OSU gave him 1,774 career points and moved him past Kirk Hinrich (1,753 from 2000-03), Dave Robisch (1,754 from 1969-71) and Pierce (1,768 from 1996-98). ... Collins tied a season-high with six turnovers. ... Cole Aldrich (11) scored in double figures for the third time in the last four games and 20th time this season. ... Henry (406 points) moved into fourth place on KU's all-time freshman scoring list. He moved past Darnell Valentine (392 in 1978) and Pierce (404 in 1996). The record is 496 by Danny Manning in 1985. ... Henry's three free throws gave him 76 for the season. He moved into a tie for sixth place with Tyshawn Taylor (76 in 2009). ... Henry (17) scored in double figures for the sixth straight game. He's averaging 17.8 ppg in that span. ... Brady Morningstar (two assists, no turnovers) has six games this season without a bobble. He has an impressive 64/19 assist/turnover ratio. ... Tyrel Reed tied a season-high three steals ... The Jayhawks trailed by as many as 19 points, largest deficit of the season. Previous high was 11 at Nebraska.
More like this story on KUsports.com