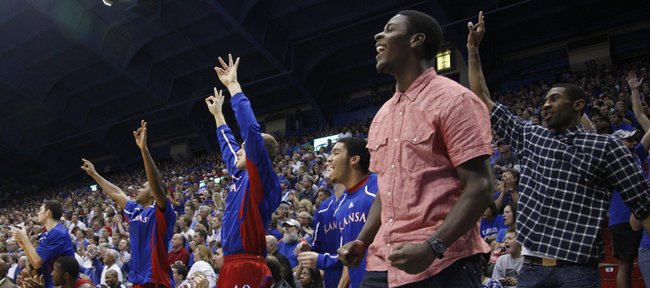 It's such a weird dynamic, watching a college basketball team play exhibition games without having a clue if or when a player who might be its best pure talent will be allowed to play.
For now, without Josh Selby, the exciting guard whose amateur status is ... being ... reviewed ... by ... the ... N ... C ... A ... A ... still, Kansas doesn't have the feel of a particularly deep team on the perimeter or the post, at least until reserve center Jeff Withey builds enough conditioning to play at his best. It also might be a team that is one long-range shooter short for the moment.
The most nagging aspect of Selby having to watch games in street clothes involves the indefinite nature of it. It feels like being on an airplane circling an airport that's closed, not knowing whether you'll be able to land in 15 minutes or have to divert to Omaha. At least the Omaha option could set the wheels in motion as to how to get back home.
Other than Late Night, all Selby's magic here has taken place behind closed practice doors. If that's frustrating for those who pay to see the Jayhawks play in Allen Fieldhouse, imagine how Selby must feel, reduced to spectator status when all he wants to do is play. To the rest of us outside the practice walls, Selby is like the wrapped Christmas present placed under the tree way ahead of time, which makes time crawl and steals some of the luster from Friday night's regular-season opener against Longwood University from Farmville, Va.
The show must go on without Selby, and nobody must inform backers of Longwood of that reality. The athletics portion of the school's website, longwoodlancers.com, has a ticker counting down the days, hours, minutes and seconds until Longwood tips off against the nation's No. 7 team.
It's difficult to draw too many conclusions about KU from Tuesday night's 90-59 drilling of Emporia State. Thomas Robinson had little trouble down low, collecting 12 points, 10 rebounds and four blocked shots, but don't forget, he looked like a shorter version of Wilt Chamberlain in one of last year's exhibitions, or so I wrote. Travis Releford scored 12 points on 5-of-6 shooting, but drives to the hoop will encounter taller, quicker, roadblocks when the competition stiffens. Scoring isn't the most important role for him.
"Coach says if you can defend you can play, so that's what I try to do so I can stay on the court as much as possible," Releford said.
Asked what position he feels most comfortable guarding, Releford said, "One, two and three. It really doesn't matter. I feel I can keep anybody in front of me with my length and my quickness."
He'll learn in time that less dribbling in order to keep the ball moving will help him earn minutes, too. Mario Little played poor defense in the first half, but pleased coach Bill Self with his second-half play at that end of the court. It will take facing quicker players to judge how much Elijah Johnson's defense has improved, and Royce Woolridge doesn't yet have the look of a rotation player.
This much is certain on the uncertainty front: If and when the NCAA clears Selby, everyone will become a better player, and the team will feel more like a team.
More like this story on KUsports.com