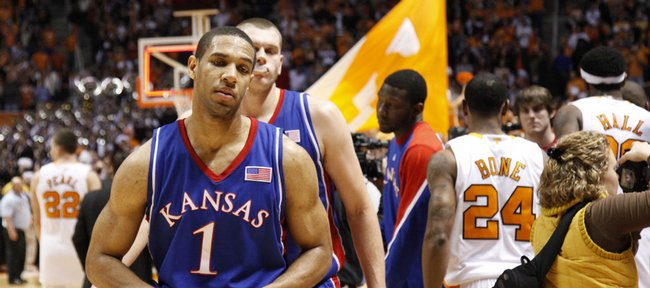 Knoxville, Tenn. — A national media member, who hadn't seen Bill Self in a while, innocuously asked Kansas University's coach how he was doing Sunday night in Thompson-Boling Arena.
"Awful. Awful. We were awful," Self said after the top-ranked Jayhawks' 76-68 loss to a somewhat-depleted No. 16-ranked Tennessee team that played three walk-ons a total of 45 minutes.
The Jayhawks, who Self said resembled "guys on an island looking out for ourselves," rather than being "as one," had time to reflect on their "awful" play against a team that had just six scholarship players in an extended locker room session with the coach.
Not a peep was heard in or around the locker room a good 50 minutes after a loss that completed KU's nonconference portion of the season at 14-1.
Normally, bodies are swinging out the locker room doors just 10 minutes or so after games, especially road games when the squad is anxious to get out of town.
"I did tell them this ... coaches talk about a 'good loss.' There is no such thing," Self said. "We want to win every game and all that stuff, but if winning camouflaged us getting better? Then we're better off to have this happen so we can start getting better now.
"If we can look back four weeks from now and say, 'Hey, we became a team upon finding this out about ourselves' … if we do that, I'm cool with this. If we don't do that, then this is a really bad loss."
He talked to the Jayhawks about becoming better teammates.
"Do we really go through the game thinking, 'How I can get my other four teammates on the floor better?' Or do we go into the game thinking how the other four teammates can affect me. As long as you worry how it affects you, you are not a good teammate. That's a fact of life in this game. I think we have good teammates. I do not think we were good teammates today."
One thing Self did not do after a contest that will see KU shed its No. 1 ranking after keeping it from the preseason until today, is harp about the fact KU's undefeated dream is history.
"I told 'em also we were not going to run the table," Self said. "I mean, that wasn't going to happen. If they thought it was going to happen ... that should be our goal to win every game, but that's not going to happen. I guess it is mathematically possible for two teams (Texas, Kentucky) to still do that. I don't predict it'll be the case."
Senior Sherron Collins, who had 22 points off 7-of-20 shooting (two of 10 from three) and had four of KU's 16 turnovers (against five assists), said, "Maybe," when asked if he thought KU could run the table this year.
Junior Cole Aldrich, who Self said wasn't aggressive enough in scoring just seven points off 3-of-5 shooting (he did have 18 rebounds), said a bit more about the end of the perfect season.
"I think every team would love to think they could (go undefeated). The reality of it is, it is probably not going to happen," Aldrich said. "The odds of that happening are far-fetched just because in this day and age every team from top to bottom is that good."
Even suspension-riddled teams forced to use walk-ons, like freshman Skylar McBee, whose big three as the shot clock wound close to zero, upped UT's narrow three-point lead to 74-68 late. He had six points in 23 minutes, while fellow walk-on Josh Bone had three points and two assists in 12 minutes and walk-on Steven Pearl an assist and three rebounds in 10 minutes.
"Everybody is disappointed," Aldrich said after a game in which KU whittled a second-half deficit of nine points to a tie game at 64 with 4 1/2 minutes to play. "It's just tough because we know as a team we can play better. Guys on the team will play better. We'll get back to work tomorrow and continue to work.
"Coach said we have to find an identity and get back to work."
Of the team's mood, Collins said: "It was down, but not that down. We know we can learn from it. The mood is more bad when you wonder why you lost. We know why we lost."
Why's that?
"We weren't tough enough, and they hit tough shots," he said, calling McBee's three "lucky," considering the freshman appeared not to know how much time was on the shot clock when he fired.
He was direct when asked about the play of big men Aldrich, Markieff Morris, Marcus Morris and Thomas Robinson.
"I don't think they have been aggressive enough," Collins said. "I know what it is. I don't think they are playing to their ability. I think it's just a lack of effort probably. It's not going after balls and trying hard, which you should. I think we'll be all right. We'll spin it into a positive."
KU was deficient in several other areas.
• The Jayhawks guarded the ball so poorly on the perimeter that Self was forced to use a zone defense.
"The zone did what it's supposed to do. They milked the clock to five seconds and had to throw up a shot to get a shot. They were able to do so and made a couple of 'em (nine of 18 threes). Whether the ball goes in or not ... we probably played better zone than we did man," Self said.
• KU didn't pass the ball well against UT's man and zone defenses, totaling just 10 assists to the Vols' 16.
"The ball stuck," Self said.
What else contributed to the loss?
"Toughness, poise, competitive juice … a lot of things," the coach said.
The good news? Conference season begins at Nebraska on Wednesday. Tipoff is 8 p.m. at Devaney Center.
"This game is important, but not near as important as Wednesday," Self said. "Our first season is over. It ended poorly. Last year our first season ended miserable in East Lansing (loss to Michigan State). We turned it around and did pretty well."