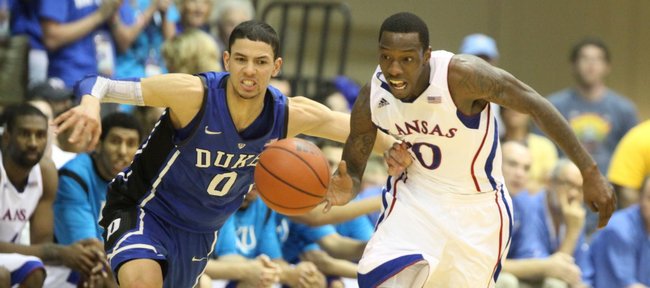 Podcast episode
KU coach Bill Self, Thomas Robinson and Jeff Withey talk in the postgame press conference following the Jayhawks' 68-61 loss to Duke on Nov. 23, 2011.
KU vs. Duke
Lahaina, Hawaii — Maui Invitational tournament chair Dave Odom, former head coach at Wake Forest and South Carolina, sensed great excitement before Wednesday's championship game between perennial powers KU and Duke.
"You hate to call it a big game in November, but it is a big game. The atmosphere is out the roof. It's as good an atmosphere as you can play in, because you can feel the crowd. They are actually a part of it," Odom said.
"In a battle of the preseason, it's going to be the best. You have the crowd, motivation on both sides trying to get out of here unscathed."
Of course, one team was destined to lose in the 28th-annual title game.
"This is the kind of game that helps you grow no matter what," Odom said. "They'll both be on a plane tomorrow and learn from it no matter the outcome. It won't stay with either one of 'em too long. They'll move on. They are not where they want to be in April at this time, but they both have Final Four potential."
As far as a scouting report on both teams ... "I think Kansas is one of the few teams in the country with visible size at the guard positions and at the post position to play Duke man-up," Odom said before the game. "The key for Kansas is, can they play effectively at the eight and nine slots? They've got seven. Duke can go eight or nine no problem."
Tweet, tweet
Former KU guard Mario Chalmers of the Miami Heat had this to say on Twitter before the game: "Had a conversation wit EJ. Look for him to ball out tonight as well as my youngin Ty and trob."
EJ refers to KU guard Elijah Johnson, Ty is guard Tyshawn Taylor, and trob is Thomas Robinson.
Chalmers, by the way, will host a charity exhibition game on Dec. 1 at Sullivan Arena in Chalmers' hometown of Anchorage, Alaska. Also playing in the game will be former KU players Marcus and Markieff Morris, Cole Aldrich, Julian Wright and Brandon Rush. The game will benefit both Alaska Hoops, Inc., and the Mario V. Chalmers Foundation.
Morningstar makes team
Former KU guard Brady Morningstar has made the season-opening roster for the Tulsa 66ers of the NBA Development League. The Tulsa 66ers is the official minor-league team of the NBA's Oklahoma City Thunder.
Former Free State High standout Morningstar was drafted by Tulsa on Nov. 3 and reported to training camp on Nov. 12. The 6-foot-4, 185-pounder was the 34th-overall selection in the NBADL draft. Coached by Nate Tibbetts, Tulsa officially opens the season Friday at Idaho.
Scoring prowess
Tennessee's media-relations department came up with an interesting stat regarding college coaching staffs. The Vols' staff of Cuonzo Martin, Tracy Webster, Jon Harris and Kent Williams is the top scoring coaching staff in NCAA Div. I. Those players scored 5,381 points. Kansas' staff of Bill Self, Danny Manning, Kurtis Townsend and Joe Dooley is fifth at 3,805 points scored in their careers. Manning accounted for 2,951 of the KU points.
More like this story on KUsports.com