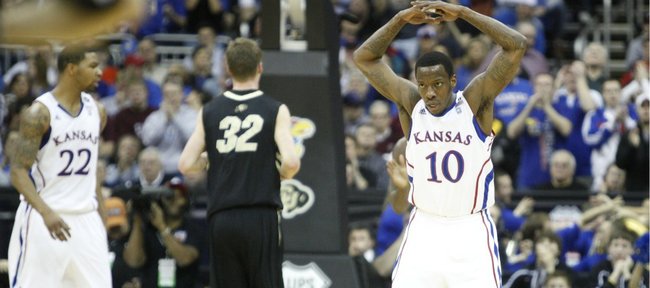 Kansas City, Mo. — Kansas University junior point guard Tyshawn Taylor had only been in the game 15 seconds Friday night when he heard a familiar voice booming instructions in his direction.
"Drive it ... drive it!" coach Bill Self bellowed at the 6-foot-3, 185-pounder, who was more than willing to obey coach's commands against Colorado in a Big 12 tournament semifinal in Sprint Center.
Taylor, who subbed for Elijah Johnson just 1:08 into the game, took the ball to the hole aggressively in his 29-minute stint, scoring 15 points while dishing four assists against four turnovers in KU's 90-83 victory.
"I heard his words. It's exactly what I did," said Taylor, who hit four of seven shots and seven of eight free throws on a night KU made 29 of 33 charities. "He told us at the timeout (at 18:52 with KU already down, 6-0), 'We've got to play faster.' He told us that last night. He told us today before we went out there we've got to play faster I tried to come off the bench and play with energy."
He had his best scoring night since a 15-point outing against UMKC on Jan. 15.
"I mean, that could be me," Taylor said, asked if the slashing player is "the real Tyshawn."
"I've got to be more aggressive, but I feel I picked my spots today. I still turned it over too much, but I thought I played pretty well."
Self has come to expect a lot from former starter Taylor, who has come off the bench in four straight games since serving a two-game suspension.
"That's what he should do all the time," Self said of Taylor taking the ball to the basket. "With Elijah, we play side to side a lot, which is fine. That means you have to get the ball in the paint off the pass. With Tyshawn in the game, you can get the ball in the paint off the bounce. It adds another element, another dimension a lot of times we don't have."
Taylor, who has seemed extremely focused since the suspension, didn't crack a smile when asked to define his role on the team in this 2010-11 postseason.
Remember, he got into a batch of trouble last year for saying he didn't understand his role.
"I think my role is the same whether starting or coming off the bench," Taylor said. "Bringing energy to the team. My job is to make sure my team gets a shot every time. I had some careless turnovers again. I have to get us a shot every single time."
The Jayhawks (31-2) advanced to today's 5 p.m. final against Texas, by beating a CU team (21-13) that raced out to leads of 11-2 and 22-10.
The Morris twins then scored 17 straight points (the first seven by Marcus, the last 10 by Markieff) in a 19-4 surge that gave KU a 29-26 lead.
The Jayhawks entered halftime up, 43-37, and stretched that lead to a game-high 18 points at 62-44 with 14:14 left. The Buffs never quit and cut it to six in the final minute, though the outcome was never seriously in doubt.
"Colorado played great," Self said, "especially the first half. They got us down, 22-10, before we woke up. And then we actually played some of our best ball of the year from the 10-minute mark to about the 10-minute mark of the second half and kind of faltered down the stretch. But we'll take it. I've got a lot of respect for Tad (Boyle, CU coach and KU grad) and the job he does and certainly for their players."
Marcus Morris (5-of-12 shooting) and Markieff (6-for-10) scored 20 points apiece for KU. Tyrel Reed hit three of six threes and scored 15 points. CU's Alec Burks scored 23 points, but Cory Higgins was just 1-for-11 and hit for six points.
More like this story on KUsports.com