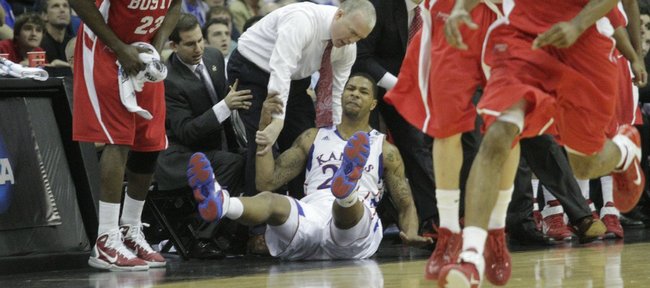 Tulsa, Okla. — Boston University might not have become the first No. 16 seed to knock off a No. 1 in the NCAA Tournament Friday, but, in falling to top-seeded Kansas University, 72-53, at the BOK Center, the Terriers showed glimpses of what the first team that achieves the feat might have.
Toughness, pride, passion, a bunch of made shots and, perhaps most importantly, no fear … all were on display as the Terriers battled the Jayhawks much harder than any bottom-feeder is supposed to.
"I did not see them as a 16 seed, and I told our guys that," KU coach Bill Self said of BU. "That team today, I see them as a really good, solid team (that's) well-coached."
Like Self, BU coach Patrick Chambers also refused to let the number to the left of the teams' names on the bracket define the game. Instead, he looked at it as red versus white, size versus scrap, muscle versus might.
"I didn't do any, 'Slay the dragon, David and Goliath,'" Chambers said. "I didn't do any videos of Bucknell beating Kansas or Northern Iowa beating Kansas, or Morehead State beating Louisville. I didn't do any of that. I felt like we came in and truly believed in the gameplan. We truly believed in one another, and we tried to compete, and I thought we competed for 40 minutes. That's how good Kansas is."
For 30 minutes, the Terriers were terrific. BU hit four of its first eight shots — leading scorer John Holland (19 points on 19 shots) sank three of them — and the Boston defense, which was severely undersized, kept Kansas out of the paint and away from easy buckets.
The Jayhawks led by four, 33-29, at halftime, but by that point it was clear that BU was not going to go away quietly, if at all.
The nine Terriers who played, along with the coach who led them, fought like pit bulls throughout the game.
Never was there a better example of BU's fight than at the 12:21 mark of the second half. After a 10-3 run by Kansas gave Self's squad some separation, the Jayhawks went looking for the knockout blow, but BU guard Matt Griffin wasn't interested in being the target.
After KU freshman Josh Selby missed a pair of shots, Griffin, 5-foot-10, 180 pounds, and KU forward Thomas Robinson, who stands 6-9, 240 and looks roughly twice Griffin's size, battled for the rebound. The scrum resulted in a tie-up, and possession went Boston's way. Griffin emerged from the mix-up with a slightly crooked nose and a wave of intensity.
"That's kind of our whole mentality. That's coach Chambers' attitude," Griffin said. "We're going to play as hard as we can and give it all we've got for as long as we're out there. I think we did that tonight."
Chambers agreed.
"I'm proud of our team. I'm proud of our guys. They really battled and played hard," he said.
As Kansas prepares for Sunday's opponent and Boston heads home as the 108th straight 16 seed to fall to a No. 1, the Terriers began to make plans for the next few weeks.
"Kansas is a great team," said freshman forward Dom Morris (nine points on 3-of-6 three-point shooting). "And good luck to 'em. I hope they do well."
Added Griffin, one of six Terriers (including Chambers) on the BU roster from Philadelphia, home of KU's Morris twins: "I hope they do extremely well the rest of the way. In fact, I hope they win the whole thing. I'll be rooting for them. Especially because the Morris twins are Philly guys. I have a lot of respect for those guys."