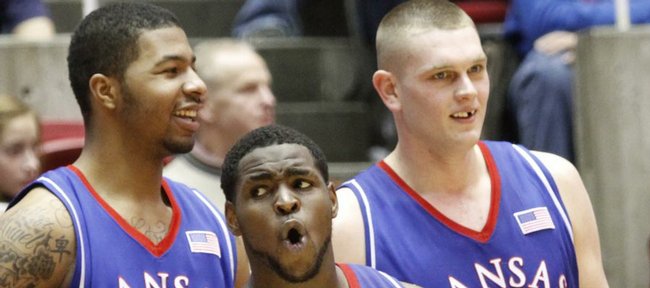 C.J. Henry bruises back
Kansas freshman guard C.J. Henry did not make the trip to Ames because of a severely bruised tailbone. KU coach Bill Self said he did not envision Henry playing in Monday's 8 p.m. home game versus Missouri.
Henry was injured after falling hard on his back while trying to block a shot in Friday's practice.
Self said tests showed no broken bones, just severe bruising.
"We're nervous he may be out an extended period," Self said.
X off target
Freshman guard/forward Xavier Henry, who hit two of 10 shots and scored four points, played just five minutes in the second half.
"He didn't shoot the ball great the first half (2-of-8). He didn't make shots early the second half, which is fine," Self said. "With that said, the guys who came in were playing well. We could have gone back to him late. I thought the other guys were playing a little bit better. Don't read anything into that. We want him to shoot it every time he's open. It was a situation he was just not making shots. He will."
Posing for cameras
ISU's Marquis Gilstrap dunked in the face of Cole Aldrich and flexed his muscles for the crowd. He also flexed after another dunk.
KU's Sherron Collins and Tyshawn Taylor also flexed in response to Gilstrap's actions after a couple of made baskets the second half.
"I mean, he deserved it. He got a good dunk on me," Marcus Morris said of Gilstrap's flexing. "I wouldn't have flexed it. I guess it's what he does."
Boorish behavior?
ISU students directed several chants that would be considered in poor taste in the direction of several KU players, including Collins and Brady Morningstar.
"The fans talk so much, you want to shut 'em up immediately and get 'em out of the way," said Collins, who said it was special going 4-0 in Ames in his career. "They never shut up. Regardless of whether they were down 20 or 30, they keep talking. It was all fun, though. I love it. Undefeated is a good way to get out of here."
Taylor's play
Self on the play of Taylor, who had seven points and five rebounds in 13 minutes.
"Ty played well," Self said. "He had a couple nice plays, made a big shot. He may play more in the future. He may not. Thirteen minutes ... it's not what I want him to play. It's the way I see it today."
Taylor, who has been in hot water over a recent Facebook entry that reportedly implied he may leave KU, declined an interview request after the game.
Mizzou next
KU will play Missouri at 8 p.m. Monday in Allen Fieldhouse, then will travel to Kansas State on Saturday.
"It's rivalry week for us. We will be pumped," Self said. "Of course, to date, this is the biggest home game we've played so far this year, Missouri on Big Monday. Our most hyped game we play all year, except maybe for Texas, will be in Manhattan Saturday for (ESPN) Game Day. We'll take 'em one at a time."
"The fieldhouse will be rocking. All you've got to say is 'Mizzou,'" Aldrich said.
More like this story on KUsports.com