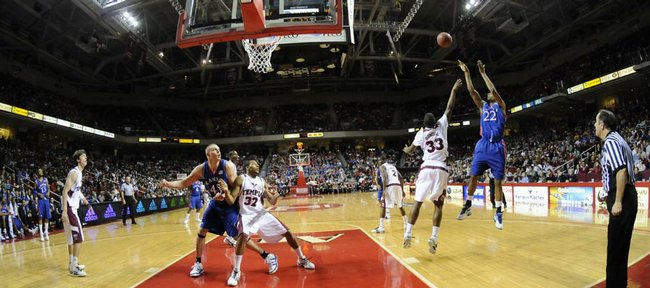 KU vs. Temple
Reader poll
Offense

19%

368 votes

Defense

73%

1374 votes

Undecided

6%

116 votes
1858 total votes.
Philadelphia — Marcus and Markieff Morris completed a brief on-court interview with ESPN2's Len Elmore Saturday night in Liacouras Center, then raced over to their own 50-person cheering section behind the Kansas University basketball bench.
The KU sophomores — who combined for 18 points and seven rebounds in the Jayhawks' 84-52 rout of Temple — planted kisses on their mom, Thomasine, who lives in Lawrence, and bear-hugs on grandmother Shirley, granddad Thomas and brother, Blake, who all reside in Philly, before finally heading through the tunnel to the showers.
All that was missing was the soundtrack from "Rocky" to make more perfect the Morris twins' triumphant return to the place they were born and reared.
"You can't ask for a better homecoming than that," Markieff Morris said after the No. 1-ranked Jayhawks slaughtered a No. 18-ranked Temple team that had allowed an average of 54.2 points a game. "We played really good defense, even better than we played on offense."
The Jayhawks performed so well on both ends that they ended this one early. KU used a 21-6 run to turn a narrow 19-17 lead into a 40-23 halftime advantage.
"They came to beat up Temple, I hate to say," grandmom Shirley Morris said with a smile. "They wanted to play well with their family here. All this is our family. Everybody here is from (Washington) D.C. and Philly," she added, asking all the Morrises to wave to a Journal-World reporter.
"I'm ecstatic for them. They are my cornbread babies," Shirley added of her grandsons.
The twins returned to the court 15 minutes later to visit with all of their relatives and those of New Jersey native Tyshawn Taylor (eight points, two assists) and Washington, D.C., product Thomas Robinson (two points, three boards).
Markieff Morris held teammate Robinson's 6-year-old sister, Jayla Paris, high in the air, while preparing to chat with reporters.
"It was great to come home and get a victory," Marcus Morris said after scoring 13 points off 6-of-12 shooting. "I wouldn't say I was nervous. It was exciting. I missed a couple bunnies in the beginning, but then I got going."
It was easy for the Jayhawks to become motivated for this one. Temple's fans, who chanted "We Want Kansas" after a recent victory over No. 3-ranked Villanova, taunted KU's players with chants of "overrated" during warmups.
"It is what it is," Markieff said of the chants. "I know they heard our fans chant, 'You got what you asked for.'''
More than 2,000 of the 10,206 fans were cheering for the Jayhawks and rocked the arena with the Rock Chalk chant the final 2 1/2 minutes.
"I was a little surprised how many (KU) people were there. The great thing is we have Jayhawk fans all over the country," Cole Aldrich said after scoring 10 points with 10 rebounds and three blocks. "We played far west at UCLA and had great fan support. Now we're in Philly and have another great fan base. It's fun to have Crimson and Blue in the crowd when we are on the road."
Morris family members, of course, helped hike the crowd total in KU's favor.
"They got all the tickets," senior Sherron Collins said with a laugh after scoring 14 points with four assists and three steals. He set the tone early with a steal and layup and also scored KU's first seven points.
Coach Bill Self noticed that at least one of the twins didn't fare so well early.
"Marcus missed two bunnies to start the game. You could tell he and Kieff were tight," Self said. "I was especially happy for those two to come home and leave here with a win."
It was a historic win of sorts: the biggest margin of victory by a KU team in a road game in the seven-year Self era.
That made for one happy twin homecoming.
"To finally get to play at home ... that felt good, and it felt good to be in this building," said Markieff, who noted he had the best game of his life in the same building in a city championship game at Philly's Prep Charter High, when he collected 23 points and 21 boards.
Marcus provided the highlight-reel play between the twins, cupping the basketball for a vicious one-handed jam in the second half, following his steal.
"I do it 'cause my hand is small. I can't palm the ball," said Marcus, who always seems to come up with something new to tell the media in postgame chats. "It's like my trademark (to cup the ball)."
Of getting the last laugh on Temple's fans, Marcus said: "I didn't hear the 'overrated' chant. I think Temple has great fans. I don't think you can call us overrated after that. I think we were the better team, the more aggressive team."
KU sure seemed to play like the No. 1 team in the land.
"They are playing great. They are No. 1 and are going to stay No. 1. That's how it should be," the twins' older brother, Blake, said proudly.
Of his brothers, Blake Morris said, "They've improved. It's how it should be their sophomore year. You break out."
"They are at least 50 percent better than last year," grandpa Thomas Morris added. "I've noticed a big improvement this year."
As far as all the chit-chatting, Saturday's Morris family reunion had to end sometime.
"Goodbye, KU," one of the Morrises said, waving as the Jayhawks were finally herded out to the team bus.
"I'm staying," Thomas Robinson told staff members Kurtis Townsend and Brett Ballard, looking lovingly at his mom and sister.
"Tell coach I'm going back to D.C." he added with a big smile on his face.
For the record, he departed with the rest of his teammates and will be ready for the next test: Wednesday's 7 p.m. home battle against Cornell.
More like this story on KUsports.com