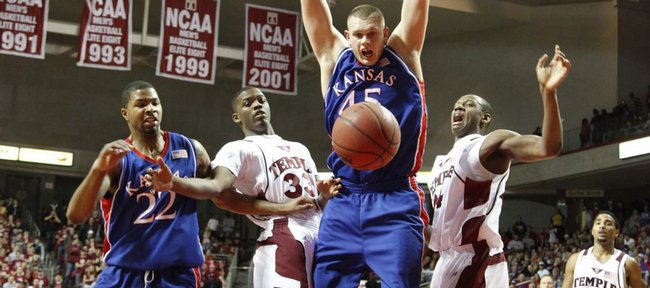 Philadelphia — A few times, Temple fans screamed for junior Lavoy Allen to shoot more in the first half of Saturday's game against Kansas University.
"I don't think they know how tough it was down there playing against (KU's) Cole Aldrich," the forward said, "so it didn't affect me that much."
Though KU dominated many aspects of Saturday's 84-52 victory at the Liacouras Center, the Owls seemed most impressed by the Jayhawks' towering front line.
KU outscored Temple, 42-16, in the paint and also outrebounded the Owls, 43-31.
"Their big guys are very strong. I think it's the conference they play in: the Big 12," Allen said. "They're very experienced, also. They've got five starters back from last year, plus a very good freshman in Xavier Henry. They're experienced, they're strong, and it's pretty tough down there."
One of Temple's biggest issues was trying to get shots over — or around — Aldrich. The junior center had three blocks in 26 minutes, but he also altered quite a few more shots.
"We attacked him a few times when we shouldn't have. We got tentative other times when we probably needed to be more aggressive," Temple coach Fran Dunphy said. "But he presents a tremendous challenge in there."
Added Allen: "He's very unique in that he's 6-11, and he has a very long wingspan. I haven't played against many guys like that since I've been playing basketball. It's very hard to simulate that in practice. I didn't know really what to expect from him."
Dunphy also came away impressed with two other members of KU's frontcourt: Philadelphia-born Marcus and Markieff Morris.
"I think their basketball I.Q. is terrific," Dunphy said. "It seems like they bought into everything that (KU) coach (Bill) Self wants them to do. They're not worried about their minutes. They're not worried about anything other than helping Kansas be the best team.
"That's the biggest compliment — I would compliment them on their skills and their abilities, but I would compliment them more on their approach to the game and how smart they are as basketball players and how much they are team guys as well."
Dunphy said KU ranked among the best teams he'd faced as a coach.
"Right up there. It wasn't something I was sitting in my office thinking about, 'Who's been as good?' but they are really talented," Dunphy said. "They don't have many weaknesses."
More like this story on KUsports.com