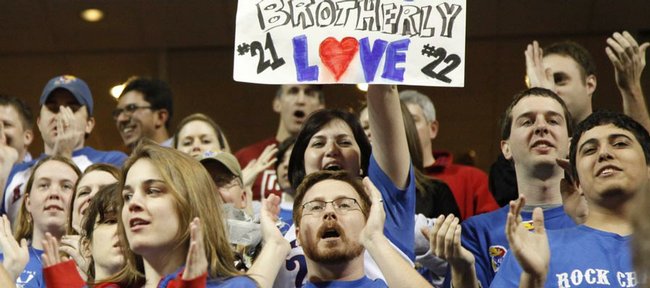 Season opener
Kansas University coach Bill Self noticed extra fire in his basketball team Saturday afternoon.
"Our guys were in tune, ready to play today," Self said after his No. 1-ranked Jayhawks pounded No. 18 Temple, 84-52. "We'd not really been away from home and felt nervous going into a game. I think the success Temple has had made us feel that way and was good for us.
"I thought today for the first time we played this year ... it really didn't matter who was out there. If Cole (Aldrich), Sherron (Collins) or Tyshawn (Taylor) wasn't out there, it didn't matter. Whoever was in there contributed and produced. A key for us is, because of our depth, Temple had a lot of guys play a lot of minutes. They may have been fatigued. We were pretty fresh. We didn't have to play guys extra minutes."
The Jayhawks improved to 13-0, yet ... "I think in our guys' minds the season started today," Self said. "Not that we haven't played tough games, but we played at home. Our season started today."
KU will meet Cornell at 7 p.m. Wednesday in Allen Fieldhouse.
Third time charmed
KU improved to 13-0 for the third time in the Self era. The Jayhawks were 14-0 in 2004-05 and 20-0 in 2007-08. ... The Jayhawks lead the all-time series with Temple, 7-3. KU has won two straight in the series. ... Self is 182-40 at KU and 389-145 overall as a head coach. He's 3-0 against Temple.
Stats, facts
KU shot 54.5 percent from the field. It marked the sixth consecutive game KU shot over 50 percent and 10th time this season. .. KU shot a season-high 89.5 percent (17-for-19) from the free-throw line. It marked the highest percentage by the Jayhawks with at least 10 attempts since KU shot 95 percent (19-of-20) versus Colorado on Jan. 21, 2009. ... KU has won eight games this season by 30 or more points. ... KU's 40 first-half points were most scored in a half by a Temple foe this season. KU's 84 points surpassed the previous high of 70 allowed by Temple versus Western Michigan. ... KU put up 84 points against a team that was leading the country in defense (54.2 ppg). ... Temple's 22.6 percent field-goal shooting in the first half was the third-worst shooting percentage by a KU opponent this season. ... Temple scored just 16 points in the paint, second-fewest scored in the lane by a KU foe this season. KU had 42 points in the paint. ... Collins scored in double figures for the 10th time this season. His 14 points moved him into 17th place on KU's all-time scoring list, passing Ron Kellogg with 1,509 career points. ... Marcus Morris, who had 13 points, reached double digits for the fourth-straight contest. ... Aldrich posted his third straight double-double and sixth of the season, with 10 points and 10 boards. ... Aldrich has led the team in rebounding 10 times this season and has 10 or more caroms in each of the last four games and eight times this year. ... Aldrich had three blocks and has had at least three rejections in his last five games. ... Taylor had a season-high-tying five boards. ... C.J. Henry scored six points in seven minutes. ... Tyrel Reed recorded three rebounds to tie a season high.
Releford ailing
KU red-shirt Mario Little made the trip, but Travis Releford did not. Self said Releford wasn't feeling well and skipped this road trip. Red-shirts can take part in warm-ups, but not play in games.
Older Morris speaks
Blake Morris, older brother of Marcus and Markieff Morris who lives and works in Philly, gave some insight into how closely the out-of-state family members follow the Jayhawks.
"I mean, we mostly watch all the games on TV," Blake said. "We've got family in Philadelphia and (Washington) D.C. A lot of family can't get to see them in person. I think it meant a lot to them (brothers) to have so many family members here. It's where they played, where they started out. They get much love here. It's how it should be."
Scoring machine
Henry has played 59 minutes this season. He has scored 40 points, committed nine personal fouls and has two assists. He is 11-of-18 beyond the arc, 3-for-3 inside it.
More like this story on KUsports.com