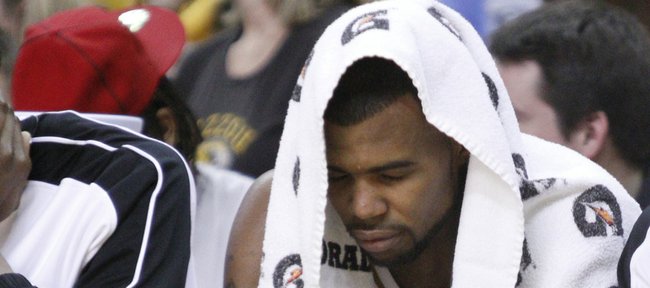 KU-Missouri
Audio clips
KU-Missouri basketball
Reader poll
84-52 at Temple

18%

861 votes

81-79 (OT) at Kansas State

60%

2848 votes

80-68 at Texas

9%

463 votes

77-56 at Missouri

11%

528 votes

Other

0%

37 votes
4737 total votes.
Columbia, Mo. — Sure, Kansas University has lost only twice this season and will be the new No. 1 in the polls Monday.
That still didn't make Saturday's 77-56 loss to the Jayhawks any easier to take for Missouri senior guard Zaire Taylor.
"They're one of the best teams in the country, but we can compete with anybody, and we can beat anybody in the country," Taylor said. "So I wouldn't say you have to keep (the loss) in perspective, like they're on another level or another skill higher than us, because I don't feel that way. They're a good team, and we're a good team.
"Today, they were the better team. Tomorrow if we play, they might not be. And that is yet to be seen. I guess we're going to have to play again."
Taylor, who scored five points on 2-for-9 shooting in his final home game, continued to back his teammates later in the postgame news conference.
"Some people are ranked All-American, some people aren't. Some people are five stars. Some people are three," Taylor said. "But, I mean, I don't know what kind of stars I had. I never see myself ranked on any kind of top 100 or anything like that. But I know, if you put someone in front of me, they could be No. 1, 2 or 3, and me and him are going to go at it.
"If you don't know our names, I don't know if anybody's going to be able to tell between the five-star and the no-name. I feel like we've got a bunch of guys like that on our team with that attitude, and I think we resemble our coach."
Though MU likely won't have a player on either the All-Big 12's first or second teams announced today, the Tigers still have compiled a 22-9 record and appear to be a lock for an NCAA Tournament bid.
Mike Anderson's squad, which was picked seventh in the preseason Big 12 poll, finished fifth with a 10-6 conference record — one game out of a tie for second.
Saturday, Missouri was well below-average in two statistical categories: bench points and three-point shooting.
Coming into the contest, the Tigers were second nationally in bench scoring, averaging 33.9 points from that unit. In 25 of their 30 games, the Tigers had at least one bench player score in double figures.
Against KU, the Tigers' reserves mustered just eight points — their worst output of the season — on 4-for-16 shooting from the floor and 0-for-7 on threes.
The Tigers, who came in hitting 38 percent of their three-pointers this year, also went just 3-for-22 (13.6 percent) from beyond the arc.
"As you can see, we were getting open looks," MU senior J.T. Tiller said. "… That's just the luck of the draw of the night. We just couldn't knock down open shots."
More like this story on KUsports.com