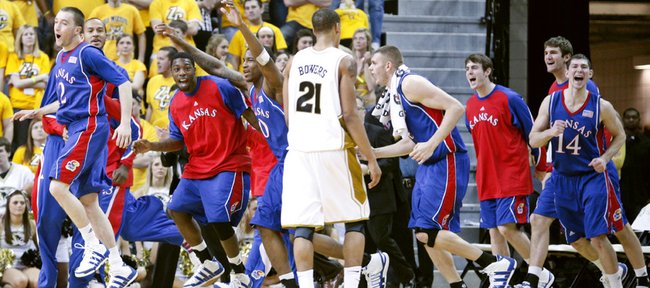 Audio clips
KU-Missouri basketball
Reader poll
84-52 at Temple

18%

861 votes

81-79 (OT) at Kansas State

60%

2848 votes

80-68 at Texas

9%

463 votes

77-56 at Missouri

11%

528 votes

Other

0%

37 votes
4737 total votes.
Tourney talk
No. 1-ranked Syracuse's loss to Louisville on Saturday means Kansas University will move back to No. 1 in the polls on Monday.
"I do think there are three teams (KU, Kentucky, Syracuse) that are solid No. 1's," KU coach Bill Self said, referring to No. 1 seeds in the upcoming NCAA Tournament.
KU, which is No. 1 in RPI, ultimately could rank as the overall No. 1 seed, which could mean stops in Oklahoma City and St. Louis in the NCAAs.
"I won't spend any time worrying about that. Hey, we played a regional in St. Louis six years ago and got beat," Self said. "It doesn't guarantee success. We have a good chance to be a No. 1 seed. I want to be a No. 1 seed. On the flip side, once you get in the tournament, it's more about matchups. There are very few homecourt advantages. I'm sure our fans would think it's great if they sent us to St. Louis, but if they send us to Houston or somewhere else, that would be fine, too."
One more year
Marcus Morris (12 points, 10 boards), who figures to earn second-team All-Big 12 mention today when the league's coaches reveal their all-conference teams, reiterated after the game he will return to KU for his junior season.
"Honestly, I don't think I'm ready for the NBA. I think I should come back," Morris said. "I want to enjoy my college experience. I like being here and love being a Jayhawk."
Nice recovery
Tyshawn Taylor, who was 0-for-6 from the field and scoreless the first half, finished with a team-leading 13 points off 5-of-13 shooting with six assists, five rebounds and three steals with two turnovers.
"Today it was important to be aggressive, to match their aggressiveness," Taylor said.
The Jayhawks, who at times had trouble with Mizzou's press and other times broke it easily, finished with 19 turnovers to MU's 11.
"I think the last few games we've been playing really well, and now it's time to see who really steps up and what we can do as a team. If we can continue to play how we've been playing as a team, the chips will fall into place," Taylor said.
Good week
KU junior Brady Morningstar, who is a Lawrence native, was happy to beat Kansas State and Missouri in a five-day span.
"It's two good wins in a week," Morningstar said, "especially to win on Senior Night (Wednesday versus KSU) and ruin their Senior Night. You do what you have to do."
Stats, facts
Missouri lost its first-ever Senior Day game in Mizzou Arena after five victories. It was the final home game for J.T. Tiller (nine points), Keith Ramsey (eight) and Zaire Taylor (four). ... The 21-point victory was KU's biggest in Columbia since a 77-54 decision on Feb. 5, 1966. ... KU won 15 league games for the fourth time (1997, 1998, 2002). ... KU is 3-3 at Mizzou Arena. ... Self is 198-42 at KU. He's 15-3 versus MU, 12-3 while at KU. ... One win from 2,000, KU has an all-time record of 1,999-795. ... Morris was one off a career high in rebounds. ... Xavier Henry (six shots, seven points) snapped a streak of seven games scoring in double figures. ... KU outrebounded (45-28) its opponent for the first time in the last three games. In the first meeting with Missouri, Kansas outrebounded the Tigers, 56-28 ... KU committed a season-low 10 fouls. ... KU made four of its first 14 shots, then 13 of its next 20. ... KU earned 1.5 points in the all sports Border Series competition with Missouri. KU now leads 11.5 to 11.
More like this story on KUsports.com