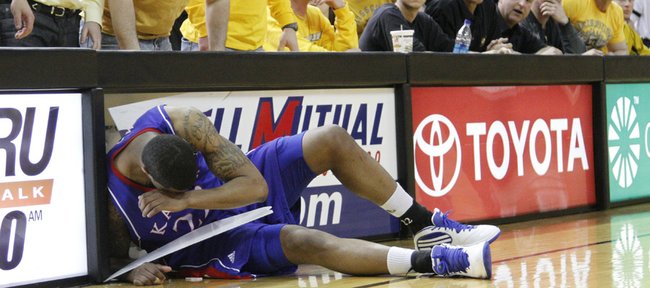 Audio clips
KU-Missouri basketball
Reader poll
84-52 at Temple

18%

861 votes

81-79 (OT) at Kansas State

60%

2848 votes

80-68 at Texas

9%

463 votes

77-56 at Missouri

11%

528 votes

Other

0%

37 votes
4737 total votes.
Columbia, Mo. — The closeness of a team sometimes reveals itself after one of its members emerges on the right side of a scary situation.
The sooner and more viciously the player at the center of the storm is ribbed, the closer the team. Based on that, the nation's soon-to-return-to-No.-1 college basketball team proved chemistry doesn't rank as a concern heading into the postseason.
Given the hard fall Marcus Morris took during the game and the teasing he was subjected to afterward, this is a team that gets along quite well. During the second half of Saturday's 77-56 Kansas University rout of Missouri at Mizzou Arena, Morris chased a ball out of bounds, crashed into the court-side advertising panel and momentarily knocked himself out.
"I blacked out for maybe 10 seconds," said Morris, who was on the ground motionless. "I just saw black. At first I didn't realize what was going on. Then I felt like I woke up."
After he walked off the floor and into the locker room, Morris said he took a couple of ibuprofen and then ran up and down the hallway to "try to feel better."
He returned to the bench and then to the game long enough to execute a play for which he has become famous. He followed his own miss for a bucket.
"Very scary," Morris said of the accident, before editing himself. "A little scary."
Teammate Brady Morningstar believed Morris got it right the first time.
"You know what, I thought he was going to get electrocuted," Morningstar said. "Because there are lights in there. It was good he was all right. It was good that thing breaks, because I think in Allen Fieldhouse he would have smacked it and laid there still. I think it broke his fall a little bit."
Said Morris: "When I went through it, before I blacked out I heard the bulb crack, and I heard it kind of go out. After that, I kind of blacked out, and then I woke back up. I heard some guy yell, 'Get up.' Geez."
It wasn't one of his teammates, but the way they joked about it afterward didn't eliminate them from the suspect list.
Dead-panned Tyshawn Taylor, who led the Jayhawks with 13 points: "Marcus is a big baby anyway. He wasn't really that hurt."
Added coach Bill Self: "He did hit his head, but he's fine. There's no concussion. I've been around him for a while. That's probably the safest place for him to get hit."
Early in his freshman season, that might have been construed as a cruel comment because of Morris' often-casual effort. Morris wasn't so popular back then. This time, it drew laughs, and everybody in the room knew how much Self enjoys coaching Morris and his twin brother, Markieff. Marcus might be hard-headed, but he's a hustler now, as evidenced by his pursuit of a loose ball all the way into la-la land.
To appreciate how far Marcus has progressed, consider that when he first played at Mizzou Arena, he and a referee made contact, and he was slapped with a technical. He said then and now that the ref bumped into him.
The difference between now and then: Now everybody believes him. The vastly improved twins have earned that trust with consistently credible effort.
More like this story on KUsports.com