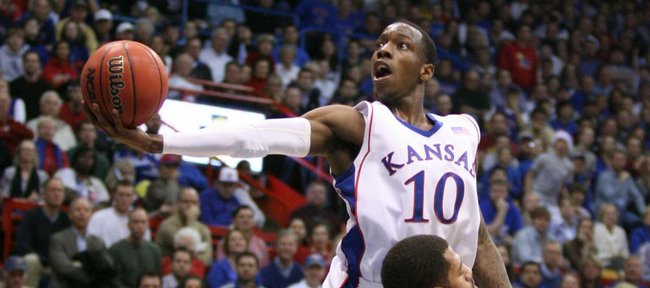 KU vs. California
Reader poll
Xavier Henry

1%

27 votes

Sherron Collins

35%

799 votes

Tyshawn Taylor

27%

615 votes

Marcus Morris

9%

206 votes

Brady Morningstar

23%

532 votes

Cole Aldrich

1%

41 votes

Other

0%

10 votes
2230 total votes.
Reader poll
Tonight vs. California

9%

8 votes

March 3 vs. Kansas State

64%

53 votes

Jan. 25 vs. Missouri

8%

7 votes

Jan. 16 vs. Texas Tech

12%

10 votes

Other

4%

4 votes
82 total votes.
Kansas sophomore guard Tyshawn Taylor, an excitable sort, said he walked into the locker room after a most impressive 84-69 Tuesday night victory against California and proudly proclaimed, "I didn't have any turnovers again."
He was reminded that wasn't the case.
"Oh yeah," Taylor said. "I threw it right to him. I don't know what I was thinking."
After that unforced second-half turnover, Taylor wheeled around, looked directly at coach Bill Self and tapped his chest three times, just in case Self thought maybe one of the ushers or cheerleaders, not Taylor, was to blame.
Taylor then went on to play pretty much a perfect half and had a whole lot of company in doing so. He, Brady Morningstar and Sherron Collins did a terrific job of feeding the fast, sure-handed big men during a 44-30 second half.
Taylor finished with 13 points, seven assists, two steals and one turnover. In the past four games, he has 24 assists and two turnovers. The hot streak coincides with Self pulling from the starting lineup for two games. The coach won't acknowledge he was lighting a fire under Taylor, but he was, and it worked. Still, it only partially explains the improved play. Brady Morningstar's return to the lineup in the last two games surely helped Taylor, too, because Morningstar makes all teammates better.
When he's not playing well, Taylor looks like a show-off swinging for the fences before walking back to the dugout, head hanging low. When he's playing well, as he has been of late, he looks like Derek Jeter in sneakers: smart, quick, relentless, a great teammate.
His long-range jumper is behind the rest of his game (.349 career three-point percentage), but everyone else's three-point percentage benefits when he penetrates and dishes and when he whips quick passes around the perimeter.
Taylor played about as well as he ever has Tuesday.
"I think I'm just playing smarter," Taylor said when asked about whether the move to the bench triggered his improvement. "I'm not forcing as much stuff, trying to be aggressive but smart at the same time."
Coaches are fond of saying it doesn't matter who starts. Pride is a powerful emotion.
"It matters a little bit," Taylor said. "I'm not going to act like I don't like starting because I do. I love hearing my name out of the huddle. I love starting. But if coach needs me to come off the bench, I'm going to do that. Whatever my team needs me to do, whatever my coach needs me to do to be a better, more productive team, I don't have a problem doing it at all."
Even though the Memphis game was closer, this had the most big-time feel of any game KU has played this season.
"I like playing in games like this," Taylor said. "The crowd's always into it. This is why we come to Kansas, to play in games like this. ESPN, on TV, against another good team. I love playing in games like this."
The crowd roared its approval after Taylor's pass to Marcus Morris on the fast break.
"This might be one of the loudest I ever heard it besides last year against Texas," Taylor said. "I love our fans. I love our fans to death."
The feeling's mutual.
More like this story on KUsports.com