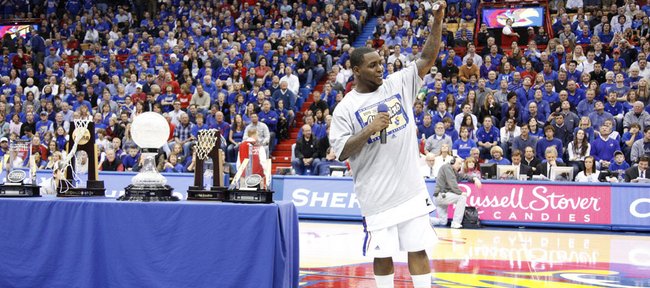 Reader poll
No. 1

9%

746 votes

Top 5

44%

3560 votes

Top 10

30%

2472 votes

Top 20

11%

888 votes

Top 30

2%

197 votes

Top 100

1%

102 votes

He wouldn't rank in my top 100

0%

75 votes

Undecided

0%

26 votes
8066 total votes.
Audio clips
Kansas-Kansas State
KU vs. KSU
Sherron Collins walked through the Jayhawker Towers door for the first time four years ago with a single bag in his hand.
"I can remember like it was yesterday, the first time he walked in," Brady Morningstar said following Kansas' 82-65 victory over Kansas State. "He didn't have any sheets for his bed."
Because Collins had boarded a flight the day after his high-school graduation, he had packed light. Some friends were driving his belongings to Lawrence later.
Morningstar wasn't about to let his new roommate sleep on a bare mattress. On the day they met, Morningstar called his parents, drove home and grabbed some plain sheets and pillows for the Jayhawks' newest player.
"He's from the city, man. It's a shell-shock coming to Lawrence," Morningstar said. "I just tried to help him out as much as I could."
Collins' Senior Night turned out to be emotional for Morningstar, who isn't just losing a teammate at the end of the season.
He's also losing someone he now calls the brother he never had.
"He's an important part of my life, and the past four years have been a long ride," Morningstar said, "but I love that guy."
It showed Wednesday.
Morningstar was known as the guy who never showed his emotion on the court. Heck, he was changed from a starter to a bench player two weeks ago because KU coach Bill Self said he knew the change wouldn't affect Morningstar's play.
Yet, here was Morningstar, allowing himself to tear up before the game while watching Collins make his way to center court with his mother, Stacey Harris.
And here was Morningstar, openly weeping during Collins' farewell speech after the game, holding his head down the whole time because he knew, when Collins mentioned him, his face was being broadcast to thousands of fans on the Allen Fieldhouse video board.
"That just shows how much he's meant to me," Morningstar said, "how much we've been through together."
What they've been through is more than most people know.
When Collins arrived that first day on campus, he was 228 pounds — though Morningstar's not sure he's supposed to tell everyone that.
During his freshman year, Collins' son, Sherron Jr., passed away. Collins was homesick.
Though it doesn't get talked about a lot, Morningstar also says Collins wasn't used to being around a different group of people.
"It sounds bad to say, but where he's from, the high school he went to, there's not a lot of white people there," Morningstar said. "He knew how to adjust. It just took him a little bit of time to adjust to all the differences here from Chicago."
Morningstar is asked for an example of how Collins adjusted while at KU, and the junior tells a story from the teammates' freshman year.
Morningstar's parents were out of town, so he had brought his dog, Mackie, to the dorm room without Collins knowing.
When Collins came home, Mackie (a Boxer breed) raced up to greet him.
Instead of coming into the room, Collins slammed the door and stayed outside in the hallway. It turned out that Collins had been attacked by a pit bull when he was younger at a football practice. He didn't mess with dogs, and he wasn't going to mess with Mackie.
"Now, that's the only dog he'll pet," Morningstar said with a smile. "He'll give it treats. He'll feed it. He'll pet it.
"He's adapted well. He finally loves the dog that he used to hate."
It's just one way that Morningstar has seen Collins grow in his four years.
"I knew his time was coming," Morningstar said, "but it came here so fast."
More like this story on KUsports.com