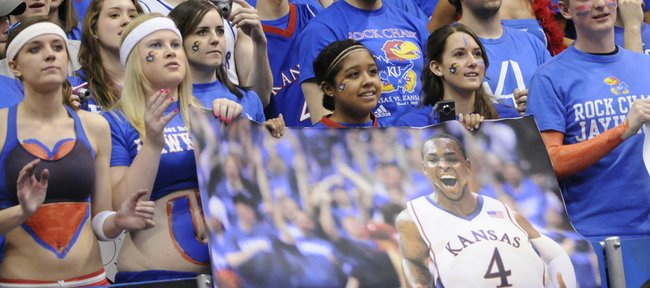 Reader poll
No. 1

9%

746 votes

Top 5

44%

3560 votes

Top 10

30%

2472 votes

Top 20

11%

888 votes

Top 30

2%

197 votes

Top 100

1%

102 votes

He wouldn't rank in my top 100

0%

75 votes

Undecided

0%

26 votes
8066 total votes.
Audio clips
Kansas-Kansas State
KU vs. KSU
Party time
Little did Sherron Collins know it, but he was in for a surprise feast following Wednesday's Senior Night victory over Kansas State.
"He's got a big dinner waiting on him in his apartment. His mom, Linda (Morningstar) and some of the other mothers have it all ready for him," Collins' uncle, Walt Harris, said after watching his nephew score 17 points and dish four assists in his final home game.
"He doesn't know anything about it. His teammates will be there. All the players are going back there."
Walt was pretty sure what was on the menu for Collins, his 26 friends and family members visiting from Chicago and others.
"Chicken wings are his favorite," Walt Harris said.
Henry excels
KU freshman Xavier Henry, whose 15 points the first half helped keep the Jayhawks comfortably in front (45-38) at intermission, said the Jayhawks wanted to win it for Collins.
"We've been talking about it a lot. We knew it was his last time running out of the tunnel. I told him it was his last time getting taped, last time eating (pregame) dinner in there," Henry said of the new locker room lounge. "We knew it would be emotional for him. We wanted to be behind him."
Henry finished with 19 points.
Asked if it was his final game in Allen Fieldhouse, Henry, who is expected to be a one-and-done player, said: "I don't know yet. I'll weigh my options and talk it over with coach and stuff."
Academic honor
KU's Cole Aldrich and Tyrel Reed on Wednesday were named to the 2010 Academic All-Big 12 team. Aldrich majors in communication studies and Reed in exercise science with a minor in business. It takes a 3.2 GPA or better to make the squad.
Stats, facts
KU wrapped up the league title and spot in a first-round Big 12 tourney game at 11:30 a.m., Thursday, March 11, in Sprint Center. ... KU has won 59 straight home games.
More like this story on KUsports.com