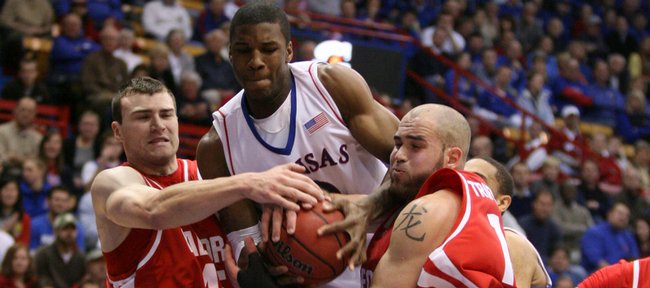 Wednesday was quite the night for Radford senior Joey Lynch-Flohr.
Too bad he could barely enjoy it.
Playing in front one of the biggest crowds of his life, in one of the most historic buildings he has been in, against the top-ranked team in the nation, Lynch-Flohr poured in a career-high 26 points during the Highlanders' 99-64 loss to Kansas University.
"That's nice," Lynch-Flohr said. "Individually, I can take that away from this. I'm glad I could do that. And I'm also glad that my parents flew in from Virginia to see it."
For a while, it looked as if Lynch-Flohr were working on developing a new nickname: Captain Hook. Six of the nine shots he made Wednesday came via the old-school hook shot, a personal favorite that Lynch-Flohr has used since his senior season in high school.
"Joey loves that shot," Radford coach Brad Greenberg said. "He works on it all the time and has surprising range with it. It's just a credit to how hard he works."
In making nine of 14 shots from the floor, the 6-foot-8 forward, who spent time this summer working out with Kansas guard Brady Morningstar in San Francisco, also took and made the first collegiate three-pointer of his career.
"It was just one of those nights," he said. "There were some positives, but you can't take too much away when you lose by that many points."
The Highlanders (4-3) were overmatched all night. Whether it was Kansas' size and depth, relentless defense or silky-smooth, second-half shooting, the Highlanders had few answers for the Jayhawks, who moved to 8-0 on the season. One such answer came in the form of 6-11, 260-pound center Art Parakhouski, who came in leading the nation in rebounds per game and left with 13 more to his credit. Parakhouski, a potential NBA Draft pick, finished with 21 points and two blocks to go along with his 13 rebounds. According to him, though, none of them came easily.
"They did a pretty good job to keep me out of the paint in the first half. I was struggling," Parakhouski said.
His biggest roadblock proved to be KU's aggressive double-teams.
"I didn't expect that," he said. "I thought I would get the ball, and it would just be me against Cole. I did not expect to be double-teamed at all. Kansas is a great team, and this experience is going to help me a lot because, in the Big South, we don't have big guys like that."
Playing a tough opponent was nothing new for the Highlanders. Last year in the first round of the NCAA Tournament, 16th-seeded Radford drew top seed and eventual-national champion North Carolina. The Tar Heels battered the Highlanders, 101-58. Earlier this season, Radford traveled to Cameron Indoor Stadium and lost to Duke by 37.
"It's more of a challenge of playing really good players than it is playing in a building," Greenberg said. "Last year we played North Carolina, and they're pretty good. We also played Duke, and they're pretty good."
KU hung 63 points on the Highlanders during the second 20 minutes, turning a 36-18 halftime advantage into the latest on a growing list of Allen Fieldhouse blowouts.
"I think Kansas was tougher than Duke," Parakhouski said. "Duke, their guards do more of their scoring. But Kansas is more balanced."
More like this story on KUsports.com