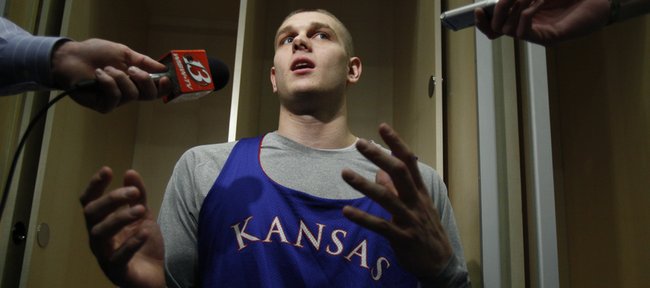 Oklahoma City — Cole Aldrich, who is storming toward Kansas University's career blocks record in just three seasons at the tradition-rich school, can only imagine how many rejections Wilt Chamberlain had as a Jayhawk.
"Ooh, I'd say a lot. Wilt ... I mean, he scored a lot of points, grabbed a lot of rebounds, did a lot of everything," said Aldrich, KU's 6-foot-11, 250-pound junior center from Bloomington, Minn.
Aldrich enters today's first-round NCAA Tournament game against Lehigh (8:40 p.m., Ford Center) with 246 blocks — 12 off the school record.
That record is not held by "The Big Dipper" — his total blocks in a two-year varsity KU career never will be known since blocks weren't recognized as a NCAA stat until 1985 — but Greg Ostertag.
"The Big O" swatted 258 shots from 1992 to '95.
"I think it'd be cool, really special to set the record because Greg is a great player and a real humble guy," Aldrich said of Ostertag, who played 11 years in the NBA.
"On the court, he's not one of those guys you ever want to play 'cause you know it'll be a tough matchup for you."
As tough a matchup as KU single-season shot block leader Aldrich (118 this year to Ostertag's 97) presents to Lehigh tonight.
The Mountain Hawks (22-10) and star guard C.J. McCollum enter the paint at their own risk against Aldrich, who is honored when anybody mentions him in the same sentence as, say, Chamberlain.
"It's special," Aldrich said, "knowing he's one player myself and a lot of guys who play basketball look at as not only one of the great players to play in college, but play basketball ever."
Aldrich is nearing the one-year anniversary of an NCAA Tournament game in which he blocked a school-record 10 shots.
"I can't say I have a favorite block, but I'd say Dayton was one of my favorite games just because of the triple-double and the fact it was such a big game for us," he said of KU's second-round NCAA Tournament victory over Dayton last March 22 in Minneapolis.
His 13-point, 20-rebound, 10-block effort versus the Flyers marked the first official triple-double in KU history.
Of course, Chamberlain had many back in the day when blocks were feared, but not recognized.
It probably should come as no surprise Aldrich, who has followed KU closely since his sophomore year at Bloomington Jefferson High, is a bit of a Chamberlain fan.
"Actually I found a Web site where he scored 100 points. There's a Web site out there that has the whole fourth quarter on there," Aldrich said of tape of Chamberlain scoring 100 points in Philadelphia's 169-147 NBA victory over New York on March 2, 1962.
"I typed it in (search engine) and stumbled upon it and listened to it when I had nothing else to do. Wilt missed quite a few shots in the fourth quarter. He had 90 and missed three shots in a row. I was, 'C'mon, Wilt,''' Aldrich added with a laugh.
Nobody in KU's camp would be startled if Aldrich somehow rejected 12 shots against the Patriot League regular-season and postseason-tournament champs.
Lehigh's tallest starter is 6-9 Gabe Knutson (9.6 ppg, 5.6 rpg).
Take it from Kansas State's Jamar Samuels, it's tough going against Aldrich inside.
"I tried to go inside and lay in shots, and Cole Aldrich is right there, like a big tree trunk standing right there trying to block your shot," Samuels said.
"You go in there, and Cole tries to kill it. He tries to kill almost everything," sophomore Marcus Morris said, adding, "of course," when asked if Aldrich has batted away many of his attempts at practice the past two seasons.
"When he gets a chance to block 'em, he tries to throw them into the stands. Sometimes when you get a real good block, your mind-set is to throw it as far as you can, and he has done that a lot."
Aldrich "will be a key in the tournament for us. He will be," exclaimed senior guard Sherron Collins.
Collins has great confidence in his fellow team leader, who takes an 11.2-scoring, 9.9-rebound and 3.5-block average into today's game.
"I see players get frustrated (taking it in the paint to Aldrich) all the time," Collins added. "Even if he doesn't block the shot, he alters it. He's the best I've played with ... ever."
Aldrich, who takes an aw-shucks attitude toward blocks — "I just try to help out our guards and be the last line of defense if they happen to get beat" — perfected the art through hours of practice.
"In high school, I had quite a bit. It was my little thing," he said. "I've been doing it a long time, but honestly I had no idea I would come here and challenge (for records)."
In perhaps the highest form of flattery, KU coach Bill Self said there's no question Aldrich is the best collegiate shot blocker he ever has seen.
"Michael Ruffin was good, but he was undersized at Tulsa," Self said of the 6-8, 245-pounder. "At Illinois, we didn't have anybody like that. Since we've been here, we haven't had anybody like that. Cole is by far the best I've had a chance to work with."
If there's one negative, it's that Aldrich bats some of his blocks out of play.
"He's better than most, but still not as good as what he can be as far as keeping balls alive," Self said. "The best shot-blockers have a knack to be able to block it to an area where their teammates have a chance to go get it. Cole is well above average in that area."
He tries to keep the ball in play, but, hey, a big guy sometimes has to do what he's got to do to keep the blood pumping.
"I actually like throwing them in the stands," said freshman center Jeff Withey, who figures to take over the shot-blocking torch from Aldrich next season. "Cole ... I'm sure he'd like to keep them all in play because that way you get an extra possession. In the moment, you never know (what will happen)."
There's a lot of instinct involved in blocking shots.
"Cole gives me a couple tips here and there about jumping later, not jumping too soon," Withey said, "but I've not learned too much. I averaged about 7 1/2 in high school. It's what I like to do."
Maybe Withey will challenge Cole's single-season block record as soon as next year?
"I'm gonna try," Withey said, quickly adding, "Cole is definitely one of the best shot-blockers I've seen, if not the best. There's good defenders in the NBA, but for right now, he's really good."
And he's ready to begin his quest for a second national title in three years.
"We know Lehigh is good," Aldrich said. "We're just really excited to get started. This is the best time of year. The main thing is to get out there and have a lot of fun."
And maybe block 12 shots in the process.
More like this story on KUsports.com