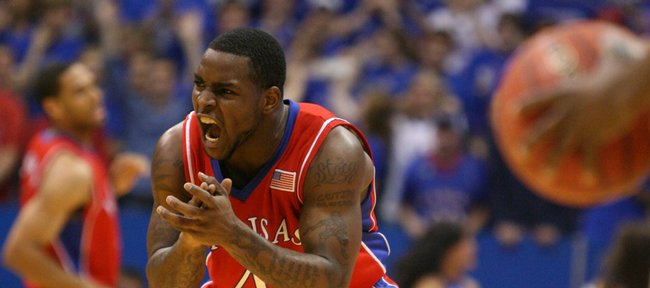 Sherron Collins didn't feel the least bit sorry for Alcorn State's basketball players during Kansas University's 98-31 battering of the Braves on Wednesday night in Allen Fieldhouse.
"I brought the guys in the huddle and said, 'Don't let 'em score,''' an angry Collins said.
He was seeking a shutout after experiencing what he deemed an unsportsmanlike act from the Braves' bench that took place 21⁄2 minutes into the game, with KU actually trailing, 4-3.
The 5-foot-11 Collins, who was knocked to the floor under the south goal, was being helped up by an Alcorn State player when Collins said he heard something shocking from an ASU coach.
"When I was on the way up, the assistant coach was like, 'Don't help him up,''' Collins said.
"I was like, 'What?'
"I didn't go over there (to confront the unnamed coach). I just told him, 'This is our house.' Then I shot a shot from the sideline and heard him say, 'You got nothin'.' I looked back and said, 'All right, it's time.'''
Time to get rolling.
The Jayhawks completed a 36-0 run — one point shy of the NCAA record for most consecutive points in a game, which was 37 by Utah State in a game against Idaho in 2006.
"The next time I looked over there (with KU leading 36-4), he was shaking his head. He didn't say anything," Collins said of the Alcorn coach. "I shook his hand after the game. He was smiling. He said, 'Good luck.' I don't think he meant anything by it. I guess he was trying to fire his team up. They were up for the game, and emotions were flying high."
Collins and Xavier Henry scored 18 points apiece as the Jayhawks rolled to the 67-point victory, which tied for third largest margin of victory in KU history. The biggest victory ever was a 70-pointer over Brown in 1989. It was KU's biggest win since a 68-pointer over Oral Roberts on Jan. 14, 1993.
Alcorn's 31 points were fewest allowed by a KU team in Allen Fieldhouse history and fewest scored by a foe in Lawrence since Idaho scored 28 on Dec. 11, 1946, in Hoch Auditorium.
It was fewest by an opponent overall since March 10, 1951, when Oklahoma State scored 27 in Stillwater.
"We were fired up tonight," Collins said.
And it was not just because of comments from the Alcorn State bench.
The (6-0) Jayhawks were hoping to impress coach Bill Self after their awful effort at a Tuesday afternoon practice that resulted in Self bringing the team back for another 8 p.m. workout.
"We were going to get up and down a lot. When guys didn't really seem to be wanting to be out there as much as I hoped, we got a great opportunity to do a ton of conditioning, probably the most we've done at any time during a practice," Self said.
"We had a unique opportunity where we could come back and start practice over that night. We practiced twice and literally wore them out."
Collins wasn't surprised Self called for two-a-days.
"I've been around awhile, I've seen it before," he said. "Me and Cole (Aldrich, 13 points, 16 rebounds) can take that. It was our fault. If we have a bad practice, we have to take responsibility for it, which we did. We didn't have our team ready to practice."
Collins wound up hoisting 16 shots, hitting six. He was 5-of-12 from three-point land. He also had three steals on a night KU finished with 21 steals, which tied for second most in school history.
Collins had attempted seven shots in each of the Jayhawks' last four games after putting up 15 in the opener against Hofstra.
"I was looking for it a little bit more. Coach was telling me to be aggressive. I was still looking for other guys to get shots," said Collins, who had two assists against Alcorn (0-10).
Elijah Johnson had nine assists, while Tyshawn Taylor had five assists and five steals. Thomas Robinson had a double-double with 15 points and 10 boards.
"I didn't want to run it up. I was hoping they'd make some shots. I was wanting them to make some shots and free throws, absolutely," said Self, who couldn't be accused of running up the score after playing his five starters just 106 minutes total.
KU will meet UCLA at 4:30 p.m. Sunday at Pauley Pavilion in Los Angeles.
More like this story on KUsports.com