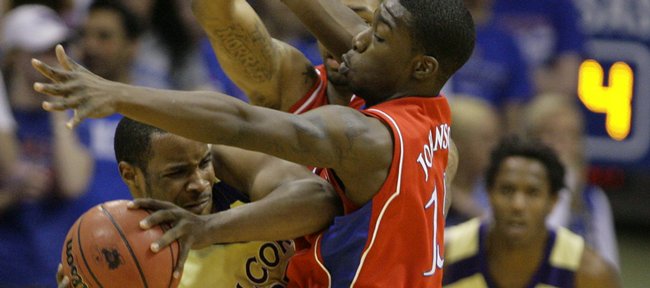 They walked in with eyes wide and hopes high and left holding sack lunches and a 98-31 loss.
Such is life at Alcorn State, where playing college basketball is not as much about national television and March Madness as it is long bus rides and mismatched socks.
When the Braves walked into Allen Fieldhouse on Wednesday to take on No. 1 Kansas, they wore Russell warm-ups, Russell uniforms and Nike shoes.
Even the socks on their feet spoke to the vast gap between the college basketball culture in Lawrence and southwestern Mississippi. Some players wore black socks, others wore white. Some of the socks were equipped with Nike's trademark Swoosh logo, and some looked more like they came from your father's sock drawer.
For all the differences between the two teams Wednesday, from KU's big-budget, high-profile world to the wooden-nickel, unknown existence the Braves lead, the one area where the two did not differ was effort.
"We just have to fight. No matter how much we lose by, we just have to fight," Alcorn State junior JaMarkus Holt said. "I wasn't really worried about the score. I just tried to prove to myself that I wouldn't back down and tried to keep playing hard."
The kind of effort Holt described was not something he thought sounded good. He lived it on the floor and hoped his teammates were watching.
And not just two minutes in, when Alcorn State actually led, 4-3, before an unbelievable dry spell left the Braves trailing, 34-4, at the 7:49 mark. Holt and his teammates gave all they had right to the end.
With 3:47 to play, the 6-foot-8, 240-pound Holt attempted to post up KU's Thomas Robinson, who stands a more solid 6-9, 230. Holt's move to the basket missed, but he outjumped Robinson and KU's Chase Buford for the rebound and was fouled on the ensuing shot. All of this with the Braves trailing, 93-29.
Moments later, freshman Shaunvanta Ingram crashed the boards after his own miss and tried to swipe a rebound from KU's Markieff Morris. The result? Morris calmly lifted the ball high above his head, and Ingram barreled into teammate Michael Starks as the Jayhawks rushed down the floor for another bucket.
"It's disheartening," Alcorn State coach Larry Smith said. "It was just a long night. We're happy to be here, though. The hospitality was fantastic. We just came in at the wrong time. They were clicking on all cylinders, and they're a great team. To beat that kind of team, you have to play flawless basketball.
"This is what Div. I basketball is all about. You're going to play powerhouse teams, you're going to get hammered but you're always going to bounce back. If you compete and give yourself a chance, anything can happen."
There weren't many highlights on the stat sheet for the Braves (0-10). They trailed, 53-12, at the half, committed 30 turnovers and shot 23 percent for the game. Holt led the team with 10 points, while Jonathan Boyd chipped in seven, and Alex Savannah added five.
But it wasn't the numbers — good or bad — that the Braves chose to remember from their trip to Lawrence.
"It's exciting to me," Smith said. "You come in here and you see all the championships — that's inspiring. Your adrenaline gets flowing, and you want to come in here and compete. (The culture at Kansas) didn't happen for no reason. It takes a lot of hard work, but you have to put the work in. It's not just going to happen."
More like this story on KUsports.com