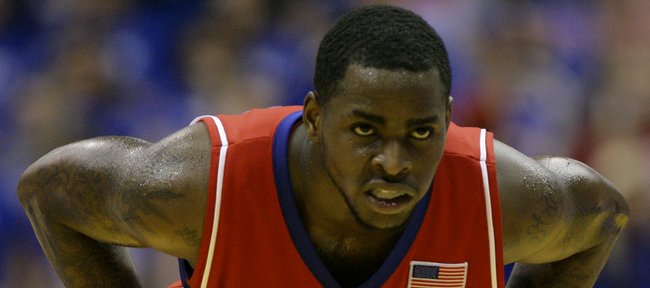 Sore knee
Kansas University freshman guard C.J. Henry participated in warmups but did not play because of a sore right knee, the same knee that has given him problems off and on since the start of the season. Coach Bill Self said Henry is listed as day-to-day.
Johnson with nine dimes
Freshman guard Elijah Johnson had nine assists — same as the entire Alcorn State team.
"Elijah is so unselfish and a great playmaker," KU junior Conner Teahan said after collecting six points, seven rebounds and one of KU's 28 assists. "He's so athletic. He's probably the best athlete on our team."
And one of the most unselfish players on the team.
"I enjoy setting up people to have success," said Johnson, a 6-foot-2 combo guard. "It's the point guard's job to pass the ball and have everybody comfortable out there."
Johnson put up four shots total, three the second half, failing to score on a night he had four rebounds and a steal to go with his nine assists in 21 minutes.
"I had nine assists and no points. Coach wanted me to be aggressive, to shoot. I didn't want to make him mad," said Johnson, who was 0-for-2 from three.
Just one stoppage
Self called just one timeout the entire game — with seven minutes to play.
Had he ever coached a game where he called zero timeouts?
"Sure," Self said. "I probably haven't gone very many games. The only reason I called a timeout was to sub, but it was the first full one of the second half. There was not much being said in timeouts over there."
36-0 run
Self said "probably not" when asked if any of his previous teams had ever taken part in a 36-0 run.
Obviously, his memory was quite good, considering the Jayhawks' 36-0 run, which came after Alcorn State scored the game's first four points, was largest run in school history and second biggest run in NCAA history. Utah State scored 37 straight in a game against Idaho in 2006.
"That team struggled tonight," Self said of the Braves. "We did play decent in spurts."
Stats, facts
KU is 6-0 for the third time under seventh-year coach Self. ... KU has won 46 straight home games. ... KU is 4-0 against Alcorn State all-time, and 15-0 against current members of the Southwestern Athletic Conference. ... KU is now 100-6 in Allen Fieldhouse under Self. ... Self is 175-40 at KU, 382-145 overall and 3-0 versus Alcorn State. ... Alcorn State's 31 points were the fewest allowed by a KU team since 1951, when Oklahoma State scored 27 (March 10, 1951, in Stillwater). It also marked the fewest points by an opponent in Allen Fieldhouse. It was the fewest points allowed to an opponent in Lawrence since Idaho's 28 on Dec. 11, 1946, at Hoch Auditorium. ... Alcorn State's 12 first-half points were the fewest by a KU opponent since Northern Arizona's 10 in the first half in 2007. ... The 41-point halftime lead was KU's biggest since a 41-point margin over Emporia State on Dec. 14, 2002. ... KU's 21 steals, which tied for second most in a game in school history, were most since 21 against Pittsburg State on Nov. 28, 2001. ... KU's 34 three-point attempts were the most since putting up 34 against Temple on Dec. 22, 1995. ... The Jayhawks' 61 rebounds are the most since grabbing 63 boards against Oregon on March 25, 2002. ... Alcorn State's 30 turnovers were the most by a KU opponent since Colorado's 30 on Jan. 27, 2007. ... The Braves' 12 field goals were the fewest by a foe since UNLV's 12 on March 22, 2008. ... Sherron Collins' five three-point field goals and 12 three-point attempts both matched career highs. Collins' three steals also tied a season high. … Tyshawn Taylor's five steals were a career high. ... Cole Aldrich's 16 rebounds were a season high. He also added three blocked shots, increasing his streak to six straight games with at least three blocks.
More like this story on KUsports.com