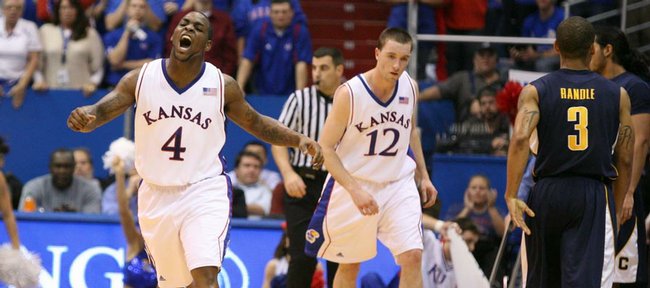 KU vs. California
Reader poll
Xavier Henry

1%

27 votes

Sherron Collins

35%

799 votes

Tyshawn Taylor

27%

615 votes

Marcus Morris

9%

206 votes

Brady Morningstar

23%

532 votes

Cole Aldrich

1%

41 votes

Other

0%

10 votes
2230 total votes.
Reader poll
Tonight vs. California

9%

8 votes

March 3 vs. Kansas State

64%

53 votes

Jan. 25 vs. Missouri

8%

7 votes

Jan. 16 vs. Texas Tech

12%

10 votes

Other

4%

4 votes
82 total votes.
Kansas University basketball coach Bill Self had a message for the 200 or so fans who lined the northwest tunnel of Allen Fieldhouse seeking autographs a half hour after Tuesday night's 84-69 victory over California.
"Merry Christmas, everybody," Self bellowed.
"Merry Christmas, coach," came the reply from the throng, guaranteed a happy holiday thanks to a strong second half in which No. 1-ranked KU outscored Cal, 44-30, in busting open a tense one-point game.
The Golden Bears (6-4), who entered as preseason favorites to win the Pac-10 Conference, looked like Grinches in disguise in opening leads of 7-2, 14-8 and 26-21.
"I think it is the first time," senior guard Sherron Collins said, asked if the Jayhawks (11-0) felt pressure as the country's top-ranked team for the first time all year.
"Especially getting down early in the game. It was one of those thoughts, 'Somebody's got to get going, or it'll be a long night playing these guys.'"
The combination of Brady Morningstar and Markieff Morris was responsible for six straight points in turning a 49-48 lead into a seven-point advantage with 13:43 to play.
Morningstar lobbed a pass to Morris over the Cal defense, which the power forward caught, then went up and flushed for a dunk. He then fired a bullet pass, which Morris corralled and dropped in the hoop Morningstar then hit a jumper, forcing Cal coach Mike Montgomery to call a timeout.
"That's Brady being Brady," Collins said of Morningstar, who had seven points and seven assists against two turnovers and also helped hold Cal's Patrick Christopher (21 points) to 1-of-4 three-point shooting the second half. "Coach told us to get it to the big men, and Brady did that."
Cal, which trailed, 57-49, after Xavier Henry hit a shot off a pass from Morningstar, lagged just 60-56 and 68-63 with 7:29 to play.
That's when another combo, Tyshawn Taylor and Marcus Morris, came through.
Taylor found Morris for back-to-back layups, and Collins hit a huge three to open a 75-63 advantage at 4:51. Those two hoops keyed a 16-4 run that gave KU an 84-67 lead in the final minute.
"We never doubt. We weren't going to lose," Morningstar said.
It seems the Jayhawks, who had all five starters hit for double digits in points, were fired up after No. 2-ranked Texas closed the gap a bit on No. 1 KU in the AP poll last week.
"We just want to win, point-blank," said Collins, who led KU with 17 points. "A lot of people were saying we're not worthy of being No. 1. We're supposed to lose or they've got us losing. We took it in. We took it personal. We wanted to show everybody we're No. 1."
Taylor, who had 13 points, seven assists and one turnover, also felt snubbed by the pollsters.
"I guess there could be a couple different No. 1 teams," he said, "but they gave it to us, and I don't think they should take it away from us until we lose. I felt this was a game we had to come out and make a statement, 'Listen, we're No. 1 for a reason,' so that's what we did."
The Jayhawks played well enough to go home for the holidays feeling great about themselves.
"That was great basketball in the second half," Self said. "This was by far the best we've executed offensively when it mattered, and it doesn't hurt when you shoot the heck out of the ball (55 percent, 73.1 the second half)."
Self said a key was the play of Morningstar.
"Not good, great," he said of Morningstar's performance. "He showed up, and his stats were great. He plays 21 minutes and has seven points on four shots. He has seven assists, two steals and did the best job on Christopher hands down."
Self said the win will prove valuable down the line.
"They could win the Pac-10," Self said of the Bears. "I thought Cal played great."
The Jayhawks are now free to hit the road for Christmas. Next practice is Saturday night. Next game is Tuesday versus Belmont in an 8 p.m. tipoff in Allen.
"It'll make for a great trip tomorrow," Chicago native Collins stated.
More like this story on KUsports.com