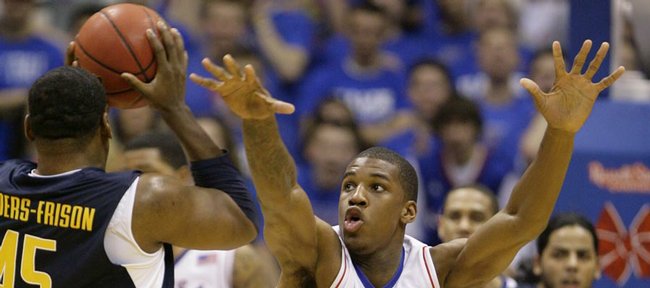 KU vs. California
Reader poll
Xavier Henry

1%

27 votes

Sherron Collins

35%

799 votes

Tyshawn Taylor

27%

615 votes

Marcus Morris

9%

206 votes

Brady Morningstar

23%

532 votes

Cole Aldrich

1%

41 votes

Other

0%

10 votes
2230 total votes.
Reader poll
Tonight vs. California

9%

8 votes

March 3 vs. Kansas State

64%

53 votes

Jan. 25 vs. Missouri

8%

7 votes

Jan. 16 vs. Texas Tech

12%

10 votes

Other

4%

4 votes
82 total votes.
For a short while Tuesday night, it looked like California might be the team to snap the Kansas University men's basketball team's streak of 48 consecutive home victories.
In the end, though, Cal learned the hard way that when taking on the Jayhawks at Allen Fieldhouse — even on a night in which a large majority of the student body is AWOL for the holidays —the margin for error is nearly non-existent.
"They get two, three, four baskets during one stretch there," said Cal coach Mike Montgomery, whose team fell, 84-69. "And there wasn't a whole lot we could do."
For Cal, Tuesday's loss proved an especially disappointing outcome given the fact that, despite the lopsided outcome, the Bears outplayed the Jayhawks about two-thirds of the game.

Cal led by as many as six early on, and with 7:29 remaining in the second half, trailed by just five in what was still very much anyone's game.
Forward Jamal Boykin provided a boost inside, finishing with 15 points and a career-high 15 rebounds.
Guard Patrick Christopher led all scorers with 21 points on 9-of-18 shooting, and Cal played with an impressive first-half intensity, taking an early lead and holding on to it for the majority of the game's first 20 minutes.
In the end, though, California — like so many of the teams that have came through Allen Fieldhouse during what is now a 49-game home winning streak — was just a tease.
Even though they were bolstered by a stellar first half, when it seemed all of their off-balance, fall-away jumpers from just inside the three-point arc were dropping and KU struggled to get into a rhythm offensively, the Bears could never grab hold of the momentum, could never piece together a significant run when they really needed it.
As a result, when Kansas went on an 11-2 run late in the second half — a rather modest run by KU standards — it was more than enough to sink the Bears.
"Every time they made a run, we said, 'We're only down seven, we're only down eight,'" said Boykin. "There was still enough time and we have so many shooters, if we could have hit some threes and if guys were executing and playing good defense, we could have gotten back in the game.
"(But) they did a really good job of maintaining their intensity after they made their run."
For the first time all season, the Bears were held under 70 points, leaving Lawrence with a 6-4 record heading into a five-day holiday break.
"We didn't hold it down on the defensive end," said Christopher. "They kind of did everything they wanted to. When you're trading baskets like that, when you make a mistake, they're going to capitalize on it."
More like this story on KUsports.com