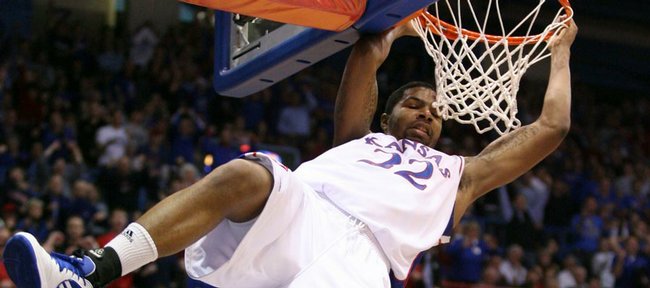 KU vs. California
Reader poll
Xavier Henry

1%

27 votes

Sherron Collins

35%

799 votes

Tyshawn Taylor

27%

615 votes

Marcus Morris

9%

206 votes

Brady Morningstar

23%

532 votes

Cole Aldrich

1%

41 votes

Other

0%

10 votes
2230 total votes.
Reader poll
Tonight vs. California

9%

8 votes

March 3 vs. Kansas State

64%

53 votes

Jan. 25 vs. Missouri

8%

7 votes

Jan. 16 vs. Texas Tech

12%

10 votes

Other

4%

4 votes
82 total votes.
Marcus Morris admits he was inspired by a lie.
Kansas coach Bill Self told his big men in the halftime locker room that Cal had outrebounded KU by two in the opening 20 minutes.
Turns out that wasn't entirely accurate. The Jayhawks actually had outrebounded the Bears, 23-21, in the first half.
"I was looking at him like, 'Down two? I feel like we out-rebounded them by a lot,'" Marcus said after KU's 84-69 victory on Tuesday. "At the end of the game, he just joked about it."
Marcus said he was glad the coach fibbed on the stats to prove a point.
"Yeah, definitely, because when he tells us stuff that's wrong, and when he tells me I'm not on the boards, I've got to get on it," Marcus said. "I make a drastic effort the next half to get on the rebounds."
KU's four big men — Marcus, Markieff Morris, Cole Aldrich and Thomas Robinson — gathered together before the second half, encouraging each other to fight for every rebound.
KU ended up outrebounding Cal, 39-33. The Bears came into Tuesday's game averaging 7.1 more rebounds than their opponents.
"I think I told them they were getting outrebounded (at half)," Self said with a grin, "but I think we were plus-two, if I'm not mistaken. Yeah, I challenged them. ... We didn't rebound the ball unbelievable, but we didn't rebound it poorly, either. I thought we did a decent job on the glass."
Marcus, meanwhile, contributed his second consecutive strong performance.
After scoring a career-high 23 points to go with 10 rebounds against Michigan on Saturday, Marcus posted 14 points and seven rebounds Tuesday.
Perhaps more importantly for Marcus, he registered his second straight, 30-plus minute game. He played 31 minutes against Cal after playing 32 against Michigan.
"That does mean a lot. That means that (Coach) trusts me more," Marcus said. "I feel like he trusts me a lot more to leave me in there for 32 minutes.
"It's not just this game. He does it all the time. That's where I've got to earn my trust with him, and I feel like during practice and during the beginning of the year, I have earned my trust with him that he can leave me in there."
Self's confidence in Marcus was evident Tuesday, as Marcus was subbed out after letting Cal's Theo Robertson by him a couple times on defense.
The sophomore was subbed back in a few minutes later.
Marcus made the proper defensive adjustments on Robertson in the second half. After scoring 12 before halftime, Robertson mustered just one point on 0-for-4 shooting in the final 20 minutes.
More like this story on KUsports.com