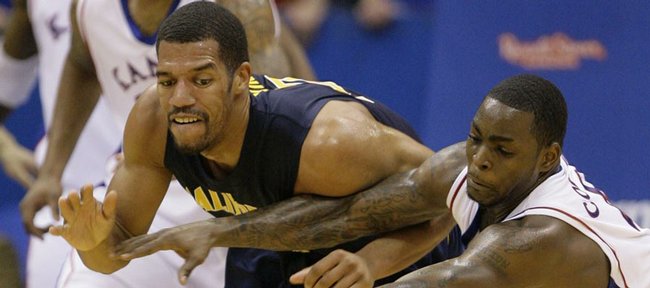 KU vs. California
Reader poll
Xavier Henry

1%

27 votes

Sherron Collins

35%

799 votes

Tyshawn Taylor

27%

615 votes

Marcus Morris

9%

206 votes

Brady Morningstar

23%

532 votes

Cole Aldrich

1%

41 votes

Other

0%

10 votes
2230 total votes.
Reader poll
Tonight vs. California

9%

8 votes

March 3 vs. Kansas State

64%

53 votes

Jan. 25 vs. Missouri

8%

7 votes

Jan. 16 vs. Texas Tech

12%

10 votes

Other

4%

4 votes
82 total votes.
Lawrence natives have made life plenty miserable for California's Golden Bears.
Lawrence High graduate Stephen Vinson was the unofficial star of the game in KU's 69-56 victory over the Bears on Dec. 10, 2005, in Kansas City, Mo.
"That was in Kemper Arena, right?" said Free State graduate Brady Morningstar, who burned the Bears for seven points off 3-of-4 shooting and dished seven assists against two turnovers with two steals in Tuesday's 84-69 victory.
Morningstar also played great defense on Cal's Patrick Christopher, who had 21 points, but six in the last 15 minutes.
"Coach (Bill) Self has talked about that game. He's referenced it before," Morningstar added of the KU victory in Kemper. "I don't think we have it out for Cal. We have it out for ourselves ... to win."
Morningstar said Christopher, who hit nine of 18 shots, was difficult to corral.
"I tried to get a hand up, but he was still hitting them," Morningstar said.
Of his own assists, Morningstar said: "I tried to get the big guys the ball. If I'm open, I'll shoot. If not, I pass."
He first lobbed a pass over the defense, then fired a bullet pass to Markieff Morris, resulting in two key buckets the final half.
"He was open on the high side the first time. The second time he was in the middle. I threw it overhand, and he caught it with one hand. I thought I threw it too hard. It was a great catch," Morningstar said.
Those two buckets helped KU snatch a 53-48 lead.
Morningstar, by the way, said he'd be heading to New York today to spend Christmas with his sister.
Marcus on Withey
Marcus Morris had an interesting comment on center Jeff Withey, who did not enter the game, coach's decision:
"Jeff Withey's a great player," Morris said. "I think he's going to be one of the best big men to ever play at KU. He's a good player. Once Jeff gets rolling, he's going to add to (our front line), and we're going to become better."
Stats, facts
KU has won 49 straight home games. ... KU is 15-3 all-time against Cal. ... Self won his 180th game at KU against 40 losses. ... The 11 made free throws are the fewest for the Jayhawks this season, and the 17 free-throw attempts tie for the fewest attempts. ... KU has held 85 straight opponents to under 50 percent shooting. ... KU's 17 second-half assists are the most in a half since 18 against UNC Asheville in 2003.
More like this story on KUsports.com