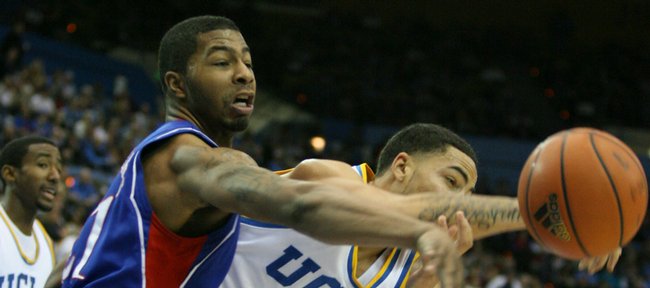 Los Angeles — If he had to do it all over again, UCLA coach Ben Howland would have ordered more attention to Kansas University's big men not named Cole Aldrich.
"They have such good size. They really did a great job of getting it inside. They exposed our post defense a little bit from the 4-spot," Howland said after KU's 73-61 victory Sunday at Pauley Pavilion. "The Morris kid (Markieff) played great. ... We probably should have doubled him some."
Instead, Howland's defense focused on only double-teaming Aldrich, KU's preseason All-American.
Markieff took advantage of the matchup, putting in a career-high 19 points on 8-for-11 shooting.
"They spread us out pretty good and just beat us up down low," UCLA senior guard Michael Roll said. "We knew the twins were good. We obviously weren't expecting 19 out of (either of) them. He's a good player."
Nearly half (36) of KU's 73 points came from in the paint. KU also out-rebounded UCLA, 43-36.
"They're just huge down low," Roll said, "and they took advantage of it."
Howland, who was frustrated with his team's defense in three consecutive losses, talked earlier in the week about perhaps changing his team's primary defense from man-to-man to zone.
The Bruins didn't play any zone Sunday, though, mostly because Howland didn't think it would work against KU.
"I just felt like their team shoots it so well. We watched film on them against zone, and they really attack it well," Howland said. "It's harder to block out in zone coverage than it is in man coverage. They still got it inside a lot. Maybe it's something we should have looked at. We're going to continue to work on it."
Howland, who led UCLA to three straight Final Four appearances from 2006-08, sees KU as an elite team.
"Where they're ranked is very accurate," Howland said. "Just watching film on them then seeing them here live today, I'm very impressed with their personnel and their size, strength, quickness.
"They've got all the components to be really, really good."
More like this story on KUsports.com