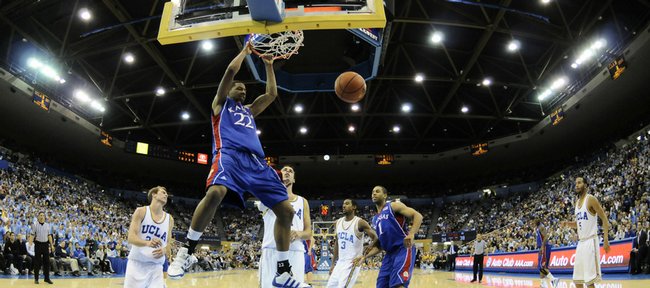 Minutes
Kansas University freshman power forward Thomas Robinson played just one minute and freshman guard Elijah Johnson just four.
"Thomas didn't get to play much. He had a dunk opportunity slip through his hands. He tried to dunk one-handed as opposed to two," KU coach Bill Self said. "Elijah only played four minutes. I was going to play guys I felt gave us the best chance to win."
Freshman C.J. Henry (sore right knee) was available but didn't get in the game.
Film session
Self showed his team tapes of UCLA's 68-55 victory over KU in the 2007 Elite Eight last week.
"There were 10 hard-playing, aggressive dudes out there at all times in that game. They beat us fairly handily," Self said. "This game did not have the same feel (as Sunday's in which KU led by seven at halftime). Any time you can get a big road win against a quality opponent with a name like UCLA, we will not apologize. We're proud to get a win."
Poked in eye
UCLA freshman Reeves Nelson (nine points, nine rebounds) was poked in the eye by Marcus Morris while driving to the hoop in the second half. Nelson tried to return to the game wearing what appeared to be sunglasses, but exited shortly after. He was taken to the Ronald Reagan Medical Center for observation.
"He drove it, and Marcus went to reach and poked him in the eye. He still made the shot," Markieff Morris said of Nelson. "He got poked hard and still made it."
"I thought Nelson played real well. Unfortunately he got poked in the eye," Self said.
Henry scores 16
Freshman Xavier Henry had 16 points off 5-of-9 shooting. He hit four threes in seven tries.
"When we've been poor offensively, we've had some individuals step up. Xavier didn't play that well offensively at all, but he made big shots," Self said. "The way we play and the way UCLA plays, it wasn't far off from being tight down the stretch."
Morningstar attends
Suspended KU junior Brady Morningstar did not participate in warmups but attended the game. He is expected to return to action against Michigan on Dec. 19. "I just decided to take him on the trip," Self said, indicating no change in Morningstar's status. ... Jeff Withey, who is not eligible to play until Dec. 19 in accordance with NCAA transfer rules, did not make the trip. Transfers cannot travel until they are eligible to play in games.
Faces in crowd
Former KU guard Carl Henry, father of the Henry brothers, attended his first KU game of the season. ... Ex-Jayhawks Eric Chenowith, Bud Stallworth and Scot Pollard also attended.
Hardwood Series
Sunday's game was part of the Big 12/Pac-10 Hardwood Series.
Other results thus far: Nebraska 51, USC 48; Texas Tech 99, Washington 92 (OT), Texas 69, USC 50; Baylor 64, Arizona State 61; Kansas State 86, Washington State 69; Missouri 106, Oregon 69; Oregon State 74, Colorado 69 and California 82, Iowa State 63.
Chol on hand
Angelo Chol, a 6-foot-8, 205-pound junior from San Diego, was scheduled to attend the game, according to Rivals.com. Rivals.com's No. 19-ranked player in the Class of 2011 has a list of several schools, including KU, UCLA, North Carolina, Florida and Georgetown.
Stats, facts
UCLA leads the all-time series against KU, 10-5. ... KU is 7-0 for the third time in the Self era (2004-05, 07-08). ... KU held UCLA to 36.1 percent shooting. The Jayhawks have held 81 straight foes under 50 percent. No team has shot better than 40 percent vs. KU this year. ... KU's bench outscored UCLA, 24-10. ... Cole Aldrich finished with three blocks and has at least three rejections in every game this year. ... Aldrich (12 boards) has had 10 or more boards the last three games. ... Sherron Collins is three points shy of Wilt Chamberlain for the 21st spot on KU's career scoring list. ... Xavier Henry (16 points) has scored in double figures in every game.