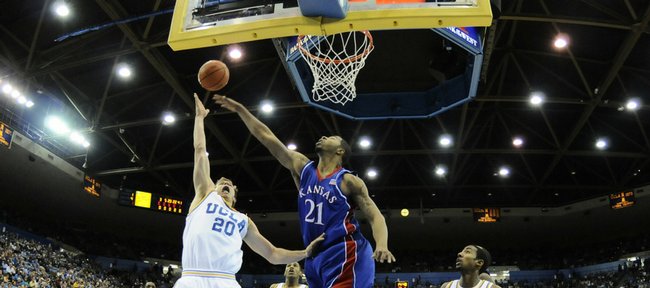 Los Angeles — Markieff Morris played as if he had something to prove on Sunday in Pauley Pavilion.
• Not to any of the NBA scouts on hand for the matchup of historic programs Kansas and UCLA.
• Not to any of the beautiful people in the stands.
Instead, his play was directed at a guy who sees him every day — coach Bill Self, who gave the 6-foot-9, 232-pound sophomore power forward a stern talking-to at practice Friday.
"Coach was kind of screaming. I took it," said Morris, who explained the problem thoroughly after scoring a career-high 19 points in the Jayhawks' 73-61 victory over UCLA.
"He felt like since we are No. 1 and since we are beating teams so bad, once we play somebody good I'd be too relaxed. I took that and ran with it. I had to tell him I will not be too relaxed any more, even in practice and games."
Morris — his previous scoring high was 11 against Tennessee Tech on Nov. 27 — said he has been called worse things than relaxed.
"Coach calls me lazy all the time because I'm so laid-back," Morris said after a 21-minute effort that included six rebounds and two steals. "I say I'm not lazy, I'm laid-back."
Meanwhile, the other half of the Morris duo, Marcus, said he also experienced Self's wrath on Friday.
"He challenged our manhood, He said we were reading our news clips. I don't even read them at all," Marcus said after scoring four points off 2-of-7 shooting with nine rebounds in 26 minutes. "I felt we showed him a little more today."
Marcus, unlike Markieff, offered a specific reason for Self's anger at practice on the same day the squad flew to Southern California.
"We were going after a rebound and one of the guys on my team grabbed my arm to grab the rebound. I just stopped. Coach looked at me like, 'Why did you stop?'
After that (he said), 'On the line,''' Marcus added, referring to Self forcing the brothers to run sprints as punishment.
"It was late in practice. We were doing it together," he added of acting too relaxed. "Coach doesn't like when me and Kieff kid around. If one of us was doing it, it might not be as bad. If we are both doing it, it'd be two times worse.
"Coach is always right," Marcus added. "He always knows what he is doing. He knows if I have to change."
The moral of that story might be: whatever works.
And the coaching did pay off.
Markieff scored off a variety of inside moves, including hitting a left-hand baby hook taught to him by assistant Danny Manning. He made eight of 11 floor shots and three of five free throws. He clanged his final two charities with nine minutes left — the free throws that would have let Markieff pass his brother's career high of 19 set against Oakland on Nov. 25.
"He said he knew I was going to miss them (free throws) when I went to the line," Markieff said of Marcus. "I don't know why I missed them. I usually get one out of two. I wish I would have made them. I would have rubbed it in his face if I made them.
"We have a lot of fun with that. Now we've just got to wait and see who can break 20."
Marcus countered: "He definitely did copy me with 19. I had a little more rebounds though."
As to why Markieff exploded for 19 ...
"He just had a knack for the ball, I think," Marcus said. "He took it as a challenge as far as they didn't give him any respect when they doubled Cole (Aldrich) and single-covered him. Coach told us that that might happen, and that might happen down the road, because Cole's a great player. "
Markieff was more than willing to make the Bruins pay for doubling Aldrich.
"Sherron (Collins, 14 points, four assists) talked about it. And Cole told me, 'You're going to have to go to work because they're doubling me a lot," Markieff said. "I said, 'Just get me the ball, and I'll do it.' Even if it's just me driving, getting other players shots or drawing the defense toward me, and that's what I did."
Collins and Markieff communicated well.
"Sherron told me, 'Just let the defender get behind you, and I'll just throw it into you, and you can work from there.' He was just telling me, 'You're going to have to make plays because they're doubling Cole,''' Markieff said.
"He just put the ball in my hands, and after the game, he told me he was proud of me. He said, 'You could do that more, but not a lot of teams are going to double Cole."
Self said Markieff Morris "was our best player no question. I thought he played terrific. He was really aggressive."
Thanks in large part to some coaching on Friday.
More like this story on KUsports.com