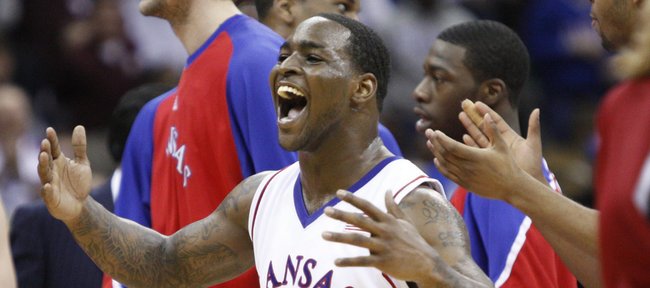 Kansas City, Mo. — With tempers flaring in the second half, Texas A&M;'s Donald Sloan said he and Kansas University's Sherron Collins shared a brief conversation on the court.
"I've got them. I've got them," Sloan said, referring to his teammates.
"OK, I've got mine," Collins answered. "We got it. Let's keep playing."
The two team leaders wanted to make sure things didn't escalate during KU's 79-66 victory over Texas A&M; on Friday night.
"There were no more problems after that," Sloan said. "We were good."
That wasn't always the case in the second half, as players from both teams had to be separated by officials twice during separate incidents.
Texas A&M; forward Bryan Davis said one of the scuffles started when he and Collins bumped each other when heading back to their respective benches.
"When you get in the heat of the battle of the game, it's nothing personal," Davis said. "You just want to do everything you can do for your team."
Though Collins seemed to be involved in a lot of the dustups between the two teams, Sloan didn't think that the KU senior was out of line.
"Guys being guys. Toughness. That's how it is, especially when it comes to my guys," Sloan said. "Nobody's going to get punched. Nobody's going to push us. Nobody's going to do things that they probably do to other teams that probably don't care. We're men in here."
A&M; forward David Loubeau also didn't have a problem with Collins' actions.
"Collins knows how to handle himself. He just got caught in the moment," Loubeau said. "He's just being really emotional and really competitive."
During the second incident, Davis and Kansas' Markieff Morris both picked up technical fouls.
Texas A&M; coach Mark Turgeon believed the officials were just trying to clean things up.
"They should have got in there sooner. I'm the one that alerted the ref to it. The other ref was just standing there," Turgeon said. "They should have got in there sooner. They shouldn't have called double-technicals, but they did. They should have just separated them.
"It's just two guys trying to be tough. It really didn't affect the game at all."
When Collins checked out for the last time, it appeared that he might have said something in the direction of the A&M; bench.
Whatever the message was, Davis said it definitely wasn't directed at Texas A&M.;
"He definitely wasn't looking at our bench. He was looking at someone behind the bench," Davis said. "He wasn't talking to us at all."
More like this story on KUsports.com