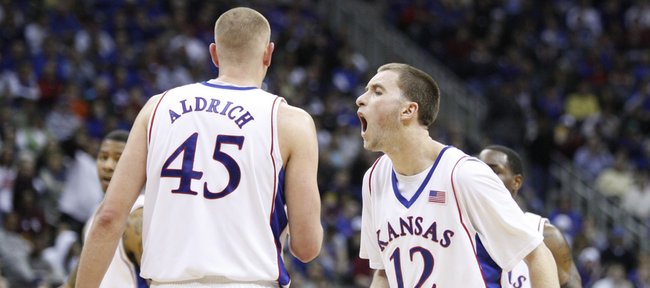 On to the title game
Kansas University today tries for its seventh Big 12 tournament title in the 14-year history of the event. KU is 6-1 in the title game.
KU's opponent in the 5 p.m. contest is Kansas State, an 82-75 winner over Baylor in Friday's second semifinal.
The Jayhawks have faced KSU just twice in the finals of a conference tournament. K-State beat KU, 79-58, in 1980, and KU defeated the Wildcats, 80-68, in 1981, in the old Big Eight Conference tourney at Kemper Arena.
"It'll be a physical game," KU center Cole Aldrich said, well aware the Wildcats outrebounded KU twice this season.
KU defeated the Cats, 81-79, in overtime on Jan. 30 in Manhattan despite being outboarded, 38-37. KU won again, 82-65, on March 3 in Lawrence despite being outrebounded, 35-28.
"K-State is so fast," KU coach Bill Self gushed. "They've got great guards, guys who can shoot the ball and rebound. They play as hard as any team in the country."
Guard Jacob Pullen scored 22 and Denis Clemente 13 in Manhattan. Pullen had 20 and Clemente 21 in Lawrence.
KU was led by Aldrich (18 points, 11 rebounds) and Sherron Collins (16 points) in Manhattan. Xavier Henry had 19 points, Collins 17 in Lawrence.
"K-State is really tough. Pullen and Clemente are really good guards," KU guard Tyshawn Taylor said. "They're good and make you work for everything you get."
Self is 14-2 versus KSU. K-State coach Frank Martin is 1-5 against KU.
Title talk
Of the title game, Pullen said: "We just want to win the Big 12 tournament. We wanted to win the regular season and felt we lost it at Kansas. We just want to get a ring. It's our goal, and we have it in front of us tomorrow."
Martin added: "Playing in that game ... the conference championship ... it's what it's all about. I'm happy for K-State, those who take pride in K-State. We go against the best team in the country. We've been nose-to-nose with them twice. KU is great. I've got to believe it will be the best environment of any conference championship game in the country. I just hope we play well. If not, it will be a long day."
Cole milestone
Aldrich scored nine points against Texas A&M;, becoming the 52nd player in KU history to top the 1,000 mark. He has 1,003 in 108 career games.
"It's pretty cool. So many people have played here," Aldrich said of KU. "I go work hard every day. That's really all I try to do."
Aldrich also posted three blocks, giving him 245 in his career. He passed Eric Chenowith (242) and Nick Collison (243) and needs 13 more to tie Greg Ostertag as KU's all-time leader in blocked shots. Aldrich has played at KU three years, Ostertag four.
Aldrich said a key to Friday's semifinal victory over Texas A&M; was KU entering into a zone defense down four points. A 21-2 run ensued.
"It's one of those things, we rarely play zone," Aldrich said. "I don't know if we confused them, but we started playing well offensively, and that pumped juice in our veins.
"The first half we played really dumb, uncharacteristic of us," he added of committing 12 turnovers in falling behind 38-35 at the break. "A&M;'s defense had a lot to do with that. I think Brady and Tyrel's threes opened it up for us."
Brady Morningstar and Tyrel Reed connected on back-to-back threes that cut a 47-40 deficit to one point with 14 minutes left.
Words
Texas A&M;'s players appeared to be miffed the Jayhawk bench came out to mob Henry, who hit a big three with 7:22 to play. Some words were exchanged. Also, a double technical was called on Markieff Morris and Bryan Davis at 6:41 after Davis and Collins inadvertently bumped into each other.
"I felt we met at the perfect time, in the center of the court," Taylor joked. "It was just the heat of the battle. It's all love at the end. We all got in line and shook hands. We respect their team."
Stats, facts
KU is 31-2 overall and 8-4 in Big 12 tournament semifinal games. ... KU is 16-1 all-time against Texas A&M; and 5-0 in games played against coach Mark Turgeon. ... KU is 4-1 on the season when trailing at halftime. ... Self is now 200-42 in seven years at KU and 407-147 overall. He's 13-3 in conference tournaments at KU. ... KU is 2,001-795 all-time, a game ahead of North Carolina for second place on the nation's all-time win list. ... Aldrich's three blocks marked the 28th time this season he has recorded three or more blocks. ... Collins scored a game-high 26 points, the most points he has scored in game since he recorded 28 points versus Baylor on Jan. 20. His career high is 33 versus Cornell. "I think it was one of my best games, not the best," Collins said. ... Henry scored 15 points, upping his career total to 460. He needs 36 to tie Danny Manning as all-time leading freshman scorer in school history. ... Henry has scored in double figures in 25 games. He has 10 or more points in nine of his last 10 games. ... Markieff Morris' 10 points marked his seventh double-figure scoring game. "I just try to come in and provide energy. That's what coach tells me to do all the time," Morris said. ... KU committed 12 first-half turnovers, which is its season average for a game. The Jayhawks finished with 19 turnovers, which the Aggies turned into 19 points. Texas A&M; collected 12 steals off of KU's miscues, marking an opponent season high.
More like this story on KUsports.com