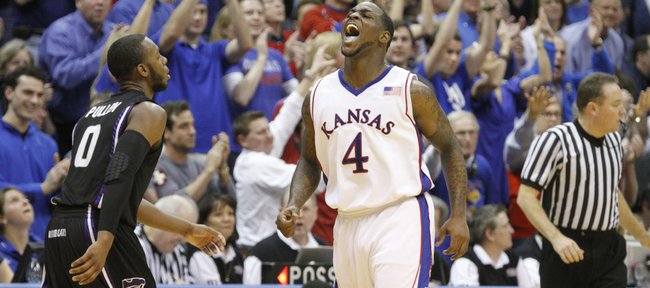 Reader poll
No. 1

9%

746 votes

Top 5

44%

3560 votes

Top 10

30%

2472 votes

Top 20

11%

888 votes

Top 30

2%

197 votes

Top 100

1%

102 votes

He wouldn't rank in my top 100

0%

75 votes

Undecided

0%

26 votes
8066 total votes.
Audio clips
Kansas-Kansas State
KU vs. KSU
Lost amid the tears shed by Sherron Collins and teammates who will miss him and chants for Cole Aldrich to return for "One more year!" came an emphatic answer to a question that dominated conversations in every establishment in town Wednesday.
Was the Oklahoma State loss an aberration or a symptom of cracks in the winning machine?
Well, Kansas University defeated Kansas State, the No. 5 team in the nation, despite the Jayhawks' two best players not bringing much in the way of positive, first-half contributions.
Stillwater was an aberration, which isn't to say it can't return the instant Kansas gets too comfortable, but there were no signs of comfort Wednesday night. While clinching an outright Big 12 title, KU made it extremely uncomfortable for a K-State team that doesn't back down.
Nobody asked that annoying 21st-century question: What's my role? Everybody instinctively did what was needed, and in the first half that meant the other three guys on the floor to bring their best because Collins and Aldrich, overcome by the emotion of their fieldhouse finales, didn't play like themselves until the final 17 minutes.
Marcus Morris, the team's third-best player, didn't have a typical night, either, so it was imperative for Kansas to flash its depth.
Xavier Henry, who might have been playing in his final game in Allen Fieldhouse, had plenty about which to smile. He buried three of four long balls and led the team with 19 points.
Reserve post player Markieff Morris matched K-State's physical inside players, elbow for elbow, push for shove. He showcased his exceptional passing ability and totaled 10 points, nine rebounds (five offensive), two assists and a blocked shot.
Tyshawn Taylor played aggressively and under control, not always an easy juggling act for him. His 11 points, four assists and two steals came in handy on a night both of K-State's talented guards, Jacob Pullen (in the first half) and Denis Clemente, hit tough shots.
Collins didn't have his three-point touch, so Tyrel Reed made sure to bring his, dropping two big ones.
Brady Morningstar's numbers weren't flashy, but in a span of 12 seconds in the first half he set up Markieff Morris with a beauty of a pass to make the score 15-4 and then knocked the ball loose from Jamar Samuels for a turnover.
Later, after Clemente's three-pointer with 17:08 left in the game tied it at 45, Collins and Aldrich were too lathered in sweat and focused on the battle to think about swan songs. They went to work. In the final 10:33, Kansas outscored K-State, 23-10, setting up the Wildcats for an intense postgame blistering from its coach, Frank Martin.
That took place while Kansas coach Bill Self held a microphone and charmed the spectators, gently breaking the truth about their desire for one more year from the center they love, the guy who played much of his sophomore season with a mask and all of his junior year with a missing front tooth.
"I'm all for that," Self said. "But don't hold your breath on that one."
Instead, focus on where Aldrich, Collins and a supporting cast that performed so well in the season's final home game can take Kansas: into April.
More like this story on KUsports.com