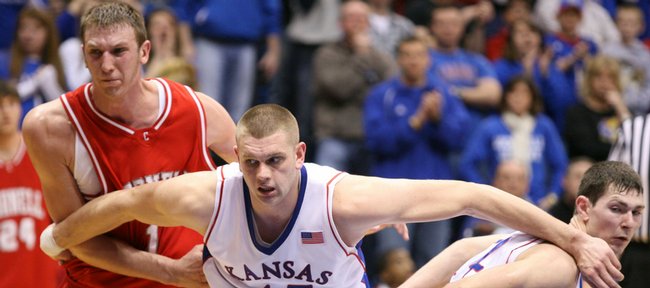 KU vs. Cornell
Reader poll
Yes

68%

1851 votes

No

24%

656 votes

Undecided

6%

176 votes
2683 total votes.
Generally speaking, there is a moment in every men's basketball game played at Allen Fieldhouse when the opposing team seems to take stock of its surroundings — Kansas University's stable of All-Americans, the unrelenting fan base, the decades of history packed into the old venue — and realizes that it's in over its head.
A couple of costly turnovers and a few botched possessions later, and no matter how promising things might have started off, the opponent ends up leaving Lawrence disappointed, the most recent victim in the Jayhawks' quickly growing 51-game home winning streak.
It was hard to pinpoint that moment Wednesday night, however, during the Jayhawks' closer-than-the score-indicates 71-66 victory over visiting Cornell, a game in which the underdog Big Red led nearly the duration and did not seem particularly interested in any of the hoopla surrounding the vaunted Kansas program or its athletes.
For 40 minutes, the Big Red took everything Kansas and its fans threw at it in stride.
When KU point guard Sherron Collins got rolling, for instance, as he is wont to do with some regularity, Big Red forward Ryan Wittman did, too, finishing with 24 points, four rebounds and three assists.
When the Jayhawks looked to be gaining some momentum at the conclusion of the first half, Cornell responded by opening the second half on an 8-3 run.
And when the thunder of a surprisingly boisterous Kansas crowd — given the number of empty seats due to inclement weather — began rolling down the bleachers midway through the second half, the team's players didn't seem to notice.
"There was very few times when I thought, 'Man, we just lost our poise here,'" Cornell coach Steve Donahue said. "They were aggressive. We matched it."
Added Wittman, "We just knew it was going to come down to the defensive end and getting those key stops. They started to get into a little bit of a rhythm whenever they made their run. Collins made some great plays, but we were just saying 'Keep executing, keep poised.'"
Which is precisely what they did.
With the exception of a couple of miscues in the game's final minutes —Wittman missed a pair of three-point attempts, and center Jeff Foote missed a layup that allowed Kansas to extend its lead to three with three minutes remaining — Cornell played well enough to hand the Jayhawks their first loss of the season.
The Big Red outscored Kansas, 22-14, in the paint and 16-10 off the bench and led by as many as eight in the second half. They scraped and clawed and gave Kansas just about all it could handle.
"We did everything we could," Donahue said, "except win the basketball game."
In the end, Collins proved too much, scoring six of the Jayhawks' final eight points, including two free throws with 25 seconds left that gave Kansas a 67-64 lead.
The run proved demoralizing to a Cornell team that came within a minute of becoming the first Ivy League team in history to knock off one of college basketball's cornerstones.
"That's why they're No. 1," said Foote, who finished with 12 points and six rebounds. "They find a way to win."
More like this story on KUsports.com