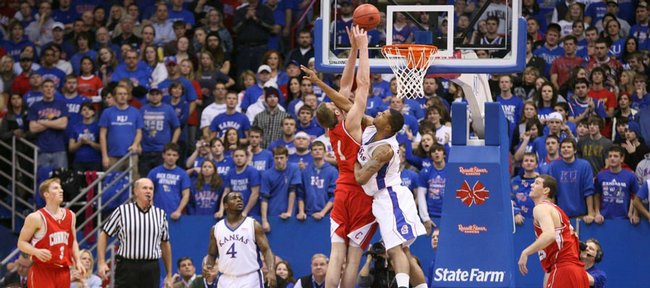 KU vs. Cornell
Reed's big bucket
Tyrel Reed's one bucket was a big one. His three from the corner, following a pass from Sherron Collins, gave the Jayhawks a 61-60 advantage with 3:55 left.
"I've been on Tyrel to be more aggressive. He wasn't aggressive the entire game," coach Bill Self said. "I told him to put himself in a position to shoot it. For that play, Brady (Morningstar) set a great fade screen for Tyrel."
Ivy material?
KU junior Cole Aldrich, who is expected to be named a first-team Academic All-American following the season, was asked if he could hack it at Ivy League school Cornell.
"Eh, that's tough (question)," Aldrich said. "We've got great academics here, but the Ivy League and all that is tough. I've got to give those guys props. It's hard enough just playing basketball and going to school. Going to one of the most prestigious schools in the country would be that much more difficult."
Stats, facts
Collins had 15 of KU's final 22 points. ... KU is 3-0 versus Cornell and 14-0 versus the Ivy League. ... KU trailed at the half (41-38) for the first time all season. ... Cornell's nine threes were the most by a KU opponent this season and the most since North Dakota State made 10 in the NCAA Tournament last season. ... Collins' 33 points were the most by a Jayhawk since Julian Wright scored 33 at Missouri on Feb. 10, 2007. ... Collins' 13 free throws were the most since Russell Robinson had 14 against Baylor on Feb. 9, 2008. ... Collins moved into 16th place all-time on the Kansas career scoring list with (1,542) passing Drew Gooden. ... Aldrich's nine rebounds give him 646, passing Roger Brown for 17th on the Jayhawks' all-time list. ... Kansas' five-point victory was the closest nonconference win at home since the Jayhawks defeated Arizona, 76-72 in overtime, on Nov. 25, 2007.
A previous version of this story incorrectly stated KU's margin of victory.