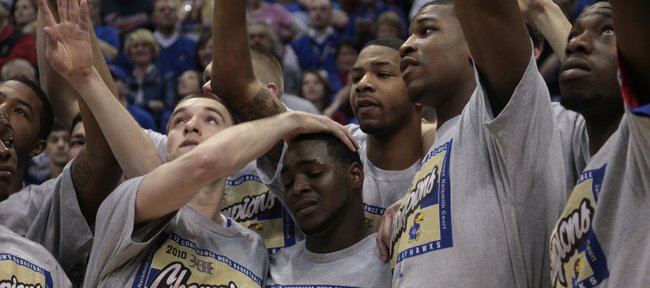 Reader poll
No. 1

9%

746 votes

Top 5

44%

3560 votes

Top 10

30%

2472 votes

Top 20

11%

888 votes

Top 30

2%

197 votes

Top 100

1%

102 votes

He wouldn't rank in my top 100

0%

75 votes

Undecided

0%

26 votes
8066 total votes.
Audio clips
Kansas-Kansas State
KU vs. KSU
Kansas State freshmen Wally Judge and Rodney McGruder have faced Kansas University guard Sherron Collins just twice in their young careers.
But Wednesday, after an 82-65 loss to KU at Allen Fieldhouse, both indicated they understood just how fortunate they were to have seen him.
"Where I come from, I was always taught that you never duck competition," said Judge, who scored six points and grabbed four rebounds in the loss. "I feel I would be cheating myself if I didn't play against the best players in the country, and he's the best player in the country."
McGruder, who gave Kansas State a lift off the bench by contributing five points and six rebounds in 21 minutes, said facing Collins taught him a lot about Big 12 basketball.
"It's the same thing tonight (as it was in KU's 81-79 overtime victory on Jan. 30 in Manhattan)," McGruder said. "There's a lot of respect there."
Although Collins — 17 points off 5-of-15 shooting — was the focus of Wednesday's Senior Night, his teammates kept K-State at bay. Collins missed the first shot of the game and finished the first half 1-of-9 from the floor.
However, KU's Xavier Henry and Markieff Morris combined to hit eight of 10 first-half shots, and that staked Kansas to a 45-38 halftime lead.
Even with Collins struggling, Kansas State coach Frank Martin said the senior guard still had enough of a presence to impact the outcome.
"I don't know what it is, but Sherron just takes it to another level," said Martin, whom reporters standing outside of the KSU locker room heard screaming at his team for 10 to 15 minutes after the game. "Every time we made a run tonight and got the game back where we needed it to be, he made a big play — on either side of the floor. And that's what makes him great."
Collins hit four of six shots in the second half, including a three-pointer with 9:40 remaining that pushed KU's lead to 65-55. He then scored the next four points for the Jayhawks to put K-State behind by 13 with 6:15 to play.
"He's fearless," Judge said. "He's strong and kind of chubby, but he's fearless."
There were many reasons for K-State's struggles this time around, not the least of which was the strong play of the Jayhawks. After combining for 31 points and 18 rebounds in the first meeting, Curtis Kelly, Dominique Sutton and Jamar Samuels contributed a total of eight points and eight boards Wednesday. The Wildcats also were saddled with foul trouble throughout the contest, which forced them to play zone for much of the second half. Four KSU players finished with four fouls.
Guards Denis Clemente (21 points) and Jacob Pullen (20) led K-State (24-5 overall, 11-4 Big 12) in scoring, and, despite their latest setback, the Wildcats left Lawrence ready to rebound.
"It's a heartbreaker going 0-2 against your archrival," McGruder said. "But we just have to bounce back and go out and get the next one."
Added Martin: "We've been a good team all year. This doesn't change that. We lost to the best team in the country. We've got nothing to hang our heads about."
More like this story on KUsports.com