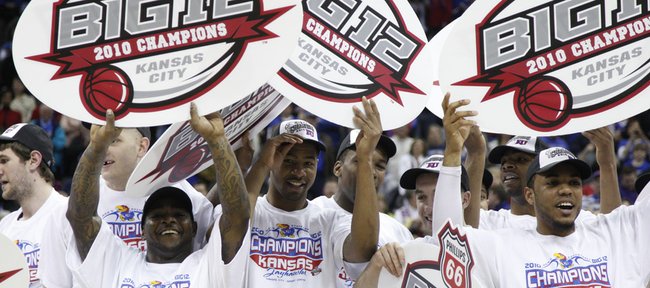 KU vs. K-State
Audio clips
Big 12 championship: KU-KSU
Reader poll
West Virginia

25%

771 votes

Ohio State

16%

497 votes

Purdue

13%

420 votes

New Mexico

5%

175 votes

Kansas State

29%

899 votes

Villanova

7%

223 votes

Other

2%

82 votes
3067 total votes.
Kansas City, Mo. — Cole Aldrich hoisted the Big 12 championship trophy high in the sky for fans to see, then cradled it lovingly while speaking to reporters Saturday night on a confetti-infested Sprint Center floor.
"This is my baby right here. I've got to take care of it. Ooh ... it's got some dust on it," Aldrich, Kansas University's junior center, said, wiping it clean.
Aldrich, who was named to the five-player All-Big 12 tournament team with MVP Sherron Collins, was wearing a Big 12 championship hat and league title T-shirt, enjoying the heck out of a hard-earned, 72-64 title victory over Kansas State.
It marked KU's third victory over the Wildcats (26-7) in three meetings and most certainly guaranteed the Jayhawks (32-2) not only a No. 1 seed in the 2010 NCAA Tournament, but overall top seed of all teams in the 65-team event.
"Let's just say I'm pretty confident we're a No. 1 seed," KU coach Bill Self said on the Sprint Center floor as his players clipped strands of net.
KU's coach elected to not take part in the net-cutting festivities.
"I told our guys they need to do that," Self said, deflecting the credit to Marcus Morris (18 points, eight boards), Tyrel Reed (career-high 15 points), Collins (12 points, seven assists) and Aldrich (10 points, eight boards) and their supporting cast.
"I'd like to climb up two more ladders," Self added of one after the regional final and one after the national title game. "I thought today should be about them."
He and his players were all about celebrating the fact the Jayhawks — in Self's words — "validated" what they accomplished in winning the regular-season league title by four games.
"You expect this on paper. To go out and do it is a lot tougher," Aldrich said. "It's always tough to beat a team three times. It's always tough to beat a rival once. To beat them in the championship game is great.
"It's got to be frustrating," Aldrich added, asked how he felt the Wildcats were feeling about losing to their rivals again in what has been a magical season for KSU. "They know they gave us their best effort. They hit the boards hard and gave us another tough, physical game."
Self used a triangle-and-two defense to slow Jacob Pullen (13 points, 5-for-17 shooting) and Denis Clemente (17 points, 7-for-15 shooting) and said the players did a nice job of "operating under subtle pressure" while being expected to win every night out.
"This was not a jubilant locker room," Self said. "It was a celebration, but basically a chance to validate who was the best team in the league. To win the league by four games and validate it here ... the guys are proud, but not jubilant. They feel more is out there."
KU's road to the Final Four will be revealed at 5 p.m. today when CBS announces the 2010 tourney pairings.
"It'll be a fun day," Collins said after bagging his seventh league title (four regular-season crowns, three postseason tourneys) in his remarkable career. "It's a day to get some rest, too. This was a tough tournament, a tough game. K-State will push you to the limit. They've got the talent to beat you. We were tough enough to not let it happen."
The Jayhawks used a Reed-led 9-2 run to grab their biggest lead of the game, 64-52, with 4:49 left. The Burlington junior opened it with three free throws, then after two free throws by Xavier Henry and a spinning layup by Collins, cashed a layup after a steal by Collins.
KSU cut it to 68-62 with 2:37 remaining.
That's when Morris hit a bank shot off a pass from Reed with 1:47 to play. Clemente answered to make it 70-64 at :36.
Marcus Morris and brother Markieff each hit one free throw in two tries the rest of the way to account for the rest of the scoring on a day KU hit 24 of 31 free throws to KSU's eight of 14.
"I thought we were aggressive tonight. Different guys stepped up and took the ball to the basket ... getting fouled and getting big rebounds. I was proud of our guys knocking them down in tough situations," Reed said.
KU, which hit 44.2 percent of its shots, held the 'Cats to 34.8 percent shooting. KU hit two of eight threes, KSU eight of 22.
Was it Kansas' best defensive performance this year?
"I think so," Self said. "I don't know exactly because I'm stubborn in that regard, because we didn't play man the whole time.
"If you talk about not fouling, playing man and doing the same things, I probably would feel more proud. But we did what we were supposed to do. We played to the scouting report very well.
"We did compete hard, no question about that. Both teams did. There wasn't much trash-talking at all. Two teams respecting each other, and fortunately we were able to pull out a victory. Nothing but respect for the K-State program. To beat the top-five team in the country three times I think also bodes well to how we competed and played."
Now it's time to relax through today's Selection Show. It's a safe bet KU will be named the No. 1 team in the Midwest Region with games in Oklahoma City on Thursday (and, if KU wins, Saturday). Two wins in OKC could lead to a trip to St. Louis the following week for Friday/Sunday action.
"Final Four and hopefully win it all again," Aldrich, who was part of the 2008 title team, said of his goals entering the postseason. "Right now this feels great. I can't express the feelings we're going through now after putting our heart and soul into it all the way from last summer until now. Hopefully it's just the beginning of good things to come."
More like this story on KUsports.com