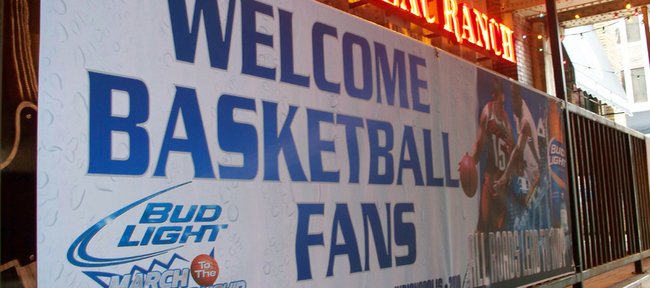 Indianapolis — So, Kansas fans, you're already looking forward to the Final Four: Indianapolis, Lucas Oil Stadium, bars on Meridian and a weekend of revelry matched only by that wonderful trip to San Antonio a couple of years ago, having jammed the River Walk and left with a national championship trophy.
Steve Sneath says bring it on.
"My house is already full if they make it," said Sneath, chapter leader for the Kansas University Alumni Association in Indianapolis, who can provide six beds for friends at his place. "Everybody's called and reserved space. I'm out of room now. I need to tell people to look down the street."
With tonight's NCAA Selection Show expected to hold relatively little immediate drama — as a presumptive No. 1 seed, the Jayhawks almost certainly will be headed to Oklahoma City for the first and second rounds, where games will be played Thursday and Saturday — fans certainly will be looking ahead.
A common vision: Lucas Oil Stadium in Indianapolis, where the Road to the Final Four will end in early April, and a national champion will be crowned.
Not that you would have known that by walking around downtown Indianapolis last week. Consider some of the sights:
• A few signs welcoming "BASKETBALL FANS" on restaurant railings, hawking Bud Light.
• Posters wrapped around trash cans sported a cartoonish basketball, with a reminder to "Keep Downtown Clean."
• A "Welcome NCAA Basketball Fans" sign, two floors above a larger "NOW LEASING" sign in new office building.
The only actual, visible Final Four reference anywhere proved to be fleeting: A Final Four logo flashing a few seconds at a time on an electronic message sign outside Lucas Oil Stadium, wedged between ads for the Hoosier Lottery, Firestone tires, Indiana Farm Bureau and 17 others.
So this is March Madness?
Don't worry, promises Terry Ford, a local basketball fan who attended Indiana University. The fun is only just beginning.
"It's just a continuous party," he said, cautioning visitors to remember that bars close at 3 a.m. each day except Sunday, when they shut down at 12:30 a.m. "It's the best sporting event we have."
Wally Renfro, senior adviser to the NCAA president, said that as many as 70,000 people would be able to watch Final Four games in person, given the size of the football stadium being configured for basketball. Students will be able to secure seats "down on the floor, at both ends," and for a "radically reduced cost."
Renfro, who's been working for the NCAA since 1972, also understands how KU fans might already be making plans, booking flights and securing lodging for the big weekend.
"Gosh, if I was them I would," he said with a chuckle, before injecting a sense of reality into the approaching madness. "But it's one of those things: Those of us who have been involved in sports for years know that that's the reason we play the game. There are no absolutes in anything."