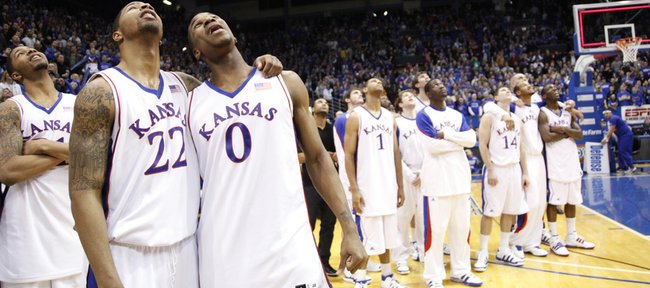 So many factors can derail a talented college basketball team.
Injuries, conceit, selfish play, unnatural team chemistry, a recruiting mistake at a key position, off-the-court issues that make a player's focus wander and the inability to play with an edge against overmatched opponents all are common symptoms of underachieving basketball teams.
It's nearly impossible for a team to make it through an entire season without letting some such speed bumps make it dip into at least a mini-slump.
In the case of an Oklahoma team projected to finish in the upper half of the Big 12, just about everything has turned sour. In the case of a Kansas University team that entered the season ranked No. 1 in the nation, whatever small issues threatened to become big ones quickly vanished, and the Jayhawks (27-1) stand three games away from what could be an undefeated conference season.
They do what all coaches want their players to do, which is become a little bit better all the time. Kansas isn't the most talented team in the country. No. 2 Kentucky, with three players projected to go in the first nine picks of the NBA Draft, wins that competition.
Yet at the moment, no team in the country, not even Kentucky, is playing as well as a Kansas team that shows no signs of conceit or complacency.
A lousy second half in Monday night's 81-68 victory against Oklahoma notwithstanding, Kansas looks like a March-ready basketball team with all its mini-issues looking more like things of the past than potential problems.
Center Cole Aldrich, his concentration tainted in the early going by worries about his grandmother, who moved onto her eternal reward, and his breathing hindered by bronchitis, didn't have his best game Monday night, but has been a steady, dominant inside presence more often than not of late.
Sherron Collins appears to have shaken a prolonged three-point shooting slump. Tyshawn Taylor's confidence has returned, and his Facebook page has vanished. Most significant, Xavier Henry has emerged from a long midseason funk and is playing like a freshman All-American.
This team is deep enough that it can weather inevitable slumps from players. Avoiding distractions helps, and since the fights with the football team during football season, there haven't been any sideshows to stunt the Jayhawks' progress.
"We went through our crap before practice started, and since then I think we've had one guy, if I'm not mistaken, that maybe we went through a little bit of stuff with," said Kansas coach Bill Self, whose team clinched at least a share of its sixth consecutive Big 12 title Monday night.
That one guy was Taylor, who said he didn't know his role and had some unfortunate social-media postings.
"Look across America, how many teams deal with stuff?" Self said. "It's pretty remarkable that this team has not had a lot of distractions since back before the season started. That's one reason we're winning games. We haven't had to deal with a lot of that crap that a lot of teams have had to deal with."
Another reason: The individuals keep growing. Not as experienced as some teams, Kansas is more mature, more focused than most.
More like this story on KUsports.com