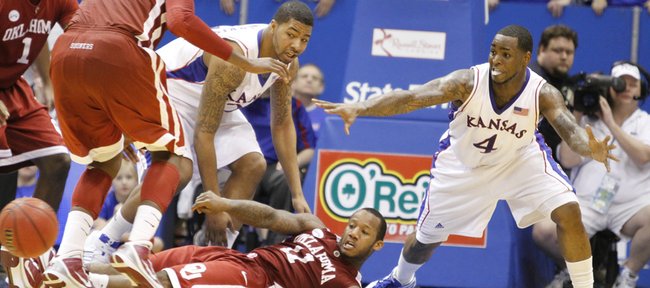 Monday's 81-68 loss to top-ranked Kansas University was one of those games Oklahoma coach Jeff Capel would like to have back — at least the start.
In front of a national television audience, on one of the biggest stages in the land, Capel's crew took the court and laid an egg.
"I thought we were excited to play," Capel said. "But I thought we were a little tight early. And that's what this place (Allen Fieldhouse) does to you. We just dug a hole, and it was tough to get out of, especially in a place like this."
Oklahoma (13-14 overall, 4-9 Big 12) missed its first nine shots and allowed the Jayhawks (27-1, 13-0) to jump to leads of 13-4 and 26-9. From where Capel sat, the most frustrating part about the nine misses was that they came off of good looks. Senior Tony Crocker missed a pair, freshman Tommy Mason-Griffin misfired from long range, and the Sooners got nothing inside.
"When you're on the road against this caliber of an opponent, you have to be able to score the basketball," Capel said.
The rough start did not send the Sooners packing. Instead of sulking for the final 30 minutes, OU scrapped. It started with a 10-0 run that inspired Kansas coach Bill Self to call a timeout.
First, Cade Davis (13 points, eight rebounds) converted a three-point play. Tiny Gallon followed with a quick bucket, and Crocker dropped in a layup. Davis followed that flurry with a three-pointer to make it 26-19 with 5:54 to play in the half. To summarize, OU scored more points in its two-minute run (10) than it had during the first 12 minutes of the game.
"I thought it was the one thing we did all night," Capel said. "I thought we competed. But those stretches that we did not score really hurt us. (Kansas is) the best team in the country for a reason, and they have a chance to win the whole thing."
Oklahoma outscored KU, 39-37, in the second half and even threw a bit of a scare into the home team in the final minutes. Although the outcome was never in doubt, OU cut the Kansas lead from 24 points to 12 with just over two minutes to play.
"I thought we did a good job of just fighting," Davis said.
Despite being undersized and outmanned — leading scorer Willie Warren missed a second straight game because of an ankle injury and illness — the Sooners competed in rebounding (trailing just 39-33), limited their turnovers (nine) and, for the most part, stayed out of foul trouble.
But the one area they never got a grip on was how to slow down KU freshman Xavier Henry. Henry torched the Sooners for 18 first-half points on 7-of-7 shooting, en route to a 23-point night, his fourth-highest scoring output of the season.
"I thought our defense in the first half was good on everyone except Xavier," Capel said. "I called one defense when we were shooting a free throw, and (another Sooner) called another, and it led to a three-pointer for Xavier right in front of our bench."
Added Davis: "Just his size, his shot; he's legit. He had a great first half, and that really hurt us."