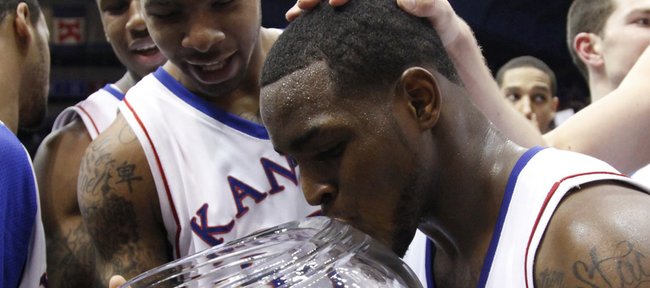 Kansas University senior Sherron Collins planted a big kiss on the Big 12 championship trophy, then at the urging of his teammates, hoisted the hardware high over his head as he headed out the northwest tunnel, putting the finishing touches on a short but sweet celebration late Monday night in Allen Fieldhouse.
"Of course it had to be him. He's the leader of our team. It's his fourth one. Not too many people can say they've won four (league titles)," KU freshman Xavier Henry said, proudly deferring to elder statesman Collins despite scoring 23 points — 18 the first half — in the Jayhawks' 81-68 victory over Oklahoma.
The victory assured KU (27-1 overall, 13-0 Big 12) at least a tie for its sixth consecutive league championship. The best Kansas State (9-3) can do is share the crown with the Jayhawks, and it'd take three straight Jayhawk losses and four straight KSU wins for the 'Cats to accomplish that feat.
"Heavy. It was really heavy," Collins said, referring to the trophy.
Not that he was complaining.
"It felt great to hold it up for the fans," said Collins.
He scored 17 points and dished six assists on a night he officially became the winningest player in a four-year span in KU history (124 victories), busting a tie with Billy Thomas, C.B. McGrath and Raef LaFrentz. Brady Morningstar (red-shirt in 2007-08) also has been with the KU team that last four years.
"The guys gave it to me. They said, 'You be the one to do it (carry it to the locker room).' They know it's my last couple of games," Collins added of a sentimental group of teammates who realize he has just the Senior Day game against Kansas State (March 3) left in the fieldhouse in his KU career.
The Jayhawks, who led by as many as 23 points the second half on a night OU missed its first 11 shots, likely would not even have held a trophy ceremony Monday if not for the fact it's Big 12 policy to present a trophy the moment a team clinches a tie.
"Tonight they asked me before the game if we won do I want to make a big deal out of it. I said absolutely not," Self said. "You make a big deal out of it when you win it outright.
"Obviously, that (trophy presentation) is something that needed to be done. I'm really proud of this group. They've had a good year. I still think there's room for us to get better."
The Jayhawks became the first team from a BCS conference to win as many as six straight titles since UCLA (1967-79). Kentucky won three SEC East Division titles 2000 to '05. Gonzaga of the WCC is working on a streak of nine straight league crowns.
"I think it's a big deal," Self said. "Of course here at KU it doesn't matter if you win six in a row. They weren't talking about us winning the conference championship when Bucknell beat us or when Bradley beat us (in NCAA Tournament first round).
"It's not the biggest story of the year, but I think from a coach's perspective and not a fan's perspective or a media perspective, I think your goal every year is to be the best team in your respective league. That's who you have to compete against. To do it six straight years is an unbelievable accomplishment."
A lot of players have been involved.
"To do it with three different teams, that's the thing I'm probably most proud of," Self said. "You have the team with Wayne (Simien), Keith (Langford) and Aaron (Miles). You have the team with Mario (Chalmers) and Brandon (Rush) and Julian (Wright), and then you have this totally new team with Cole (Aldrich), Sherron, Ty (Taylor) and the (Morris) twins and that kind of stuff. I don't know of too many teams from a BCS league ... it's one thing to win it with the same players. We've won it with three different sets."
Of course, the team is not perfect.
Self was upset that KU didn't crack the Sooners late.
"You've got to have a killer instinct and bury people," Self said. "We didn't bury them tonight, and it should have been a game where everybody got to play."
He didn't end on a negative note.
"I'm proud of our guys. For Sherron to become the winningest player ever here and Cole to be named basically the student-athlete of the year (Academic All-America player of the year before the game), it was a pretty good day for our basketball program."
KU will meet Oklahoma State at 3 p.m. Saturday in Stillwater, Okla.