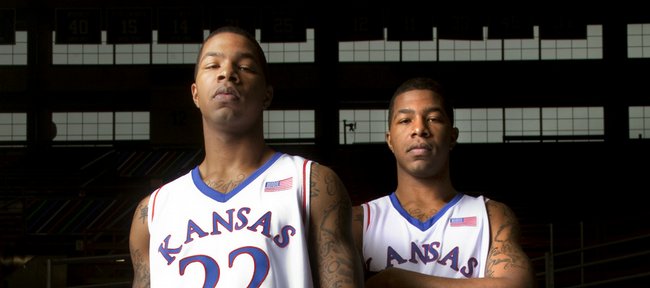 Kansas University sophomore power forward Markieff Morris says he had an uncluttered mind when he stepped to the free-throw line in high school back home in Philadelphia.
"I never had a routine. I never took a deep breath. I never dribbled it. I just caught it from the ref and shot it every time I got it. I was shooting like 90 percent from the free-throw line in high school," said Morris.
He has made six of 20 free throws (30 percent) in Big 12 play — 28 of 53 overall (52.8) — entering today's 5 p.m. home battle against Nebraska.
Morris said that in college, he's "thinking about 'em too much. It's why I'm missing."
At the same time, he's aware his old style won't work at this level.
"Obviously, the game is faster here. I need to take my time, catch my breath," Morris said. He said he made 65 of 75 free throws at practice on Thursday, a day after he converted three of nine at Colorado.
"Coach (Bill Self) had me doing push-ups when I miss, 20 (push-ups) for every one I miss," Morris said. "I still feel like there's no pressure. I can do 20 push-ups with my eyes closed. That'll just help me get stronger anyway. He'll probably make me run today for every one I miss," Morris added with a smile before Friday's practice.
Markieff's brother, Marcus, who hit two of seven charities at Colorado, also worked on free-throwing Thursday.
"I shot about 100. I made about 80," Marcus said. "The other 20, I was kind of playing around a little bit. I made about 80 straight. I was kind of focused on making free throws. I think I'm going to get it back. That was just one game."
The twins realize one close family member will be observing their free throws today.
"My mom screams it every game: 'Bend your knees, Markieff,''' Markieff Morris said with a laugh. "I usually don't bend my knees when I shoot free throws. I'm an arm shooter. I might listen to her."
OT again today?
Tyshawn Taylor said KU's last two games — overtime victories over Kansas State and Colorado — have had him biting his fingernails.
"I said to Brady (Morningstar), 'We've got to come out here and play, man. We can't keep having these nailbiters,''' Taylor said. "It shows you how good our conference is. Any night, if you are not playing, you can get beat.''
Taylor says he has returned to being "aggressive and having fun," since a mini-controversy flared a couple weeks ago over his Facebook page. It was rumored he posted something about possibly leaving KU.
"It wasn't frustration at all," he said of not talking to the media the past few weeks. "It was me trying to get back to where I thought I needed to be. I think that's where I'm at right now, just playing and having fun again."
Cousy Award
KU senior Sherron Collins is one of 11 finalists for the Bob Cousy Award, presented to the top point guard in college basketball. Other finalists in Div. I: John Wall, Kentucky; Matt Bouldin, Gonzaga; Devan Downey, South Carolina; Trevon Hughes, Wisconsin; Jeremy Lin, Harvard; Kalin Lucas, Michigan State; Ronald Moore, Siena; Scottie Reynolds, Villanova; Jon Scheyer, Duke; and Greivis Vasquez, Maryland.
NU's Henry talks about Collins
KU's Collins led the way with 22 points in KU's 84-72 victory over NU on Jan. 13 at Devaney Center in Lincoln. NU's Sek Henry pointed out to Huskersillustrated.com that Collins scored eight points when he was guarding him.
"I think I really did slow him down," Henry told the Web site. "I know a lot of times when I did come out, he started hitting some threes and stuff on us. When I was in the game, I know I kind of contained him a lot better. I just tried to make sure I stayed in front of him and made him shoot contested shots. He's a very good player, and if you go for all his (fakes), then he's very, very hard to guard."
Henry added: "I know I can guard him, and I know I can do a really good job on him. If I slow him down, that's good for us. If I contain him to two points, and his average is 16 points, then that means I had 14 points that game, because I stopped him. That's how I'm looking at this game."
Stats, facts
Kansas leads the all-time series, 167-71, including a 49-7 mark in Allen Fieldhouse. ... KU has won 14 straight against Nebraska and 23 of the last 24 dating to the 1998-99 season. The last Nebraska victory in the series was a 74-55 decision on Feb. 15, 2004, in Lincoln, Bill Self's first season at KU and his only loss to Nebraska. ... NU led KU, 12-1, and 44-43 at halftime, in the Jayhawks' 84-72 win on Jan. 13 in Lincoln. Collins scored 22 and Marcus Morris 19, while Taylor and Tyrel Reed had 11 apiece. Brandon Richardson had 18 for NU.