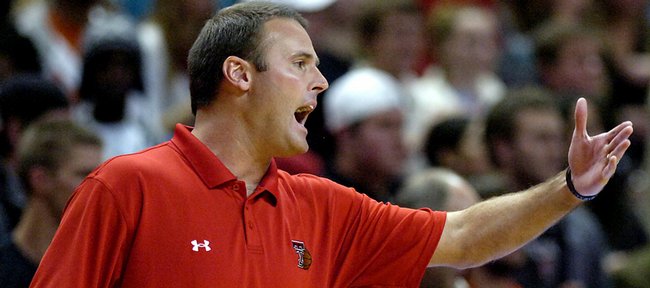 Texas Tech in the Big 12 era
Tech has never finished higher than fourth in the Big 12. Here's a breakdown:
2008-09: 14-19 (3-13) - 11th in Big 12
2007-08: 16-15 (7-9) - 8th
2006-07: 21-13 (9-7) - 5th
2005-06: 15-17 (6-10) - 8th
2004-05: 22-11 (10-6) - 4th
2003-04: 23-11 (9-7) - 5th
2002-03: 22-13 (6-10) 7th
2001-02: 23-9 (10-6) - 5th
2000-01: 9-19 (3-13) - 12th
1999-00: 12-16 (3-13) - 11th
1998-99: 13-17 (5-11) - 11th
1997-98: 13-14 (7-9) - 7th
1996-97: 19-9 (10-6) - 5th
Kansas City, Mo. — Before the start of the college basketball season, two big crowds stood out on the floor of the Sprint Center, where players and coaches from Big 12 teams met with the media for interviews.
One crowd was made up of 15-20 print/TV reporters that surrounded Kansas University coach Bill Self. The other crowd, not to be outdone, flocked to Texas coach Rick Barnes.
Not too far away, a guy in a red polo shirt and slacks sat by himself, minding his own business. Not a single recorder or camera within 15 feet. It was Pat Knight, whose Texas Tech Red Raiders will take on Kansas University at 12:45 p.m. Saturday in Allen Fieldhouse.
With a clear path to a one-on-one interview, I thought I'd talk to him. After introducing myself to the coach, I asked him about the two giant crowds.
"You surprised by the amount of people surrounding these guys?" I inquired.
"Nah, we're just glad someone came and talked to us," Knight said. "When you have a chance to win the national championship like they do, it doesn't surprise me at all."
Here's what surprised me — how down-to-earth Knight was. A lot of players and coaches appear uptight during media days, where it's programmed in their brains that reporters are out to get them. Not the case with the second-year Texas Tech coach. Knight was so off-the-cuff that it was refreshing for a change.
We talked about a variety of topics. I felt like I was shooting the breeze with an old college friend. One of the topics we talked about was his relationship with Self.
"I've known him since I was an assistant at Indiana," Knight said. "That was in '98. I always judge guys on how they treated me when I was an assistant, not as a head coach. Because everyone treats you well as a head coach. He (Self) is first-class. He's always treated me well, sat with me at games, gone to dinner with me, hung out with me. We text each other all the time, on a regular basis. He's just a good guy, funny guy, man."
Knight added: "He'd be like one of my boys I'd hang out with at a bar, like one of my college boys. He's a guy who you can trust, have a good time with. If you just met him, you wouldn't know he's a basketball coach, or a great basketball coach like he is."
Knight, as one can imagine, is well-versed on his hoops history. He grew up with the game. His father, former Texas Tech coach Bob Knight, has more victories (902) than any coach in the history of men's college basketball.
Pat Knight has a vision to start something special at Tech — something Lubbock, Texas, isn't used to seeing. The Red Raiders have never finished higher than fourth in the Big 12. Knight wants to change that.
Year one of the Knight era was rough. He was overwhelmed.
Last year, in his first full season as a head coach, Knight went 14-19 overall and 3-13 in the Big 12. The Red Raiders finished 11th in the conference standings. Knight had just taken over the program from his dad, who coached at Tech from 2001-08. The younger Knight was an assistant and associate head coach at Tech when his father coached the Red Raiders.
"Last year, it was a strange situation, taking over for your dad," Pat Knight said. "You go from being an assistant, and now you're the head coach and you don't know how to ask him for advice. Then, you try to do some things different and people that shouldn't be talking start going, 'Well they're being disloyal or they're trying to change things.' You're just trying to do your job."
When Tech's season ended early in March without an NCAA Tournament appearance, Knight made it a point to talk to two hoops icons for advice.
The first one was his dad. It helped, Knight said, to ask his dad for more advice in the offseason, when it wasn't as busy. Who better to consult than a guy who has three NCAA Tournament rings (1976, 1981, 1987, Indiana), an Olympic gold medal (coached U.S. in 1984) and four national coach of the year awards?
The second one was Duke coach Mike Krzyzewski, who calmed Knight by telling him to be patient. Taking a program not used to making the NCAA Tournament every year and making it a perennial contender doesn't happen overnight. Knight's time would come.
That time doesn't look like it's too far off.
Despite losing its first two Big 12 games, Tech began this season 9-0, its best start in eight decades. The Red Raiders (12-4) were ranked for the first time in five seasons.
Junior forward Mike Singletary keys the Tech attack with 15.4 points per game. He made a name for himself last season when he poured in a Big 12 tournament-record 43 points against Texas A&M.;
"I tried not to screw it up," Knight recalled. "I swear to God, I tried to call a play for a ball screen for (Alan) Voskuil or (John) Roberson and they called me off. They were like, 'We're going to give it to Mike.' I was just going to try to mix it up."
Knight was more impressed by Singletary a day later, however, when he went for 17 points and eight rebounds in an 81-60 loss to Missouri. Sure, the stats weren't nearly as dazzling, but that wasn't the point.
"What I was happy about was he watches himself all night on ESPN, you know, gets his ass kissed, but then he ends up having a (good game) against Missouri," Knight said. "I think that shows a lot about a kid also. That's what I was more impressed about. That gave me hope for this season that he could have back-to-back games, because I don't know how many kids, after having a game like that, wouldn't have been able to do anything the next day."
Knight's desire for his team to sustain its flashes of productivity showed during the nine-game winning streak. The Red Raiders held off then-No. 12 Washington, 99-92 in overtime, on Dec. 3. That was a game TTU probably wouldn't have won last season.
If Tech is to make noise in the Big 12 in the coming years, it will help to have a proven floor general. That's where the junior Roberson comes into play. The point guard can fill it up, like on Wednesday, when he erupted for 25 points against Missouri in the second half.
Roberson can also distribute. He leads the Big 12 with 5.44 assists per game. The Plano, Texas, native will have his hands full on Saturday, trying to defend All-American candidate Sherron Collins, but his conference-leading 35.62 minutes per game suggest Roberson should be well-conditioned for the challenge.
Tech has actually had recent success against Kansas, winning three of the last five battles. However, those three victories all took place in Lubbock. Tech has lost by an average of 32.6 points per game in Allen Fieldhouse since the Big 12's inception. The Red Raiders are 0-6 in that time.
"They can win it all," Knight said of Kansas. "So can Texas. In my mind, they have the personality and the coaches to do it. They've both been to the Final Four before and know the situation. Hopefully three nights (this season), they'll be off, but I really expect good things out of them."
Knight is also expecting good things from the Red Raiders. A full-fledged turnaround hasn't happened yet, but he's working on it. Tech finished 11th in the Big 12 last year, eighth two years ago, and has only reached the NCAA Tournament once in the last three years.
It will take time, but Tech appears on the right track. The Red Raiders have a chance at cracking the NCAA Tournament in March.
If that happens, perhaps Knight's media days crowd will start to grow in the coming years.
More like this story on KUsports.com