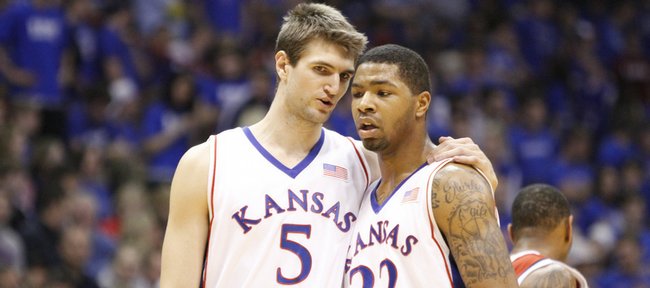 FINAL: KU defeats NU, 75-64
Taylor makes one of two free throws, right in line with KU's percentage for the day (12-for-23, 52.2 percent).
The Rock Chalk Chant starts up with 55.9 seconds left, with Collins at the free-throw line. He only makes one of two, and the free-throw curse has officially hit the entire team.
Anderson buries a deep three. He made four of his five three-point attempts today, meaning KU didn't find anyone who could guard him.
NU throws in the white flag with 30 seconds left, and Collins dribbles out a 75-64 victory.
KU 71/NU 61 — 1:22 left in 2nd half
Aldrich misses the front end of a one-and-one, and Diaz follows a miss with a layup. NU isn't out of this one yet.
Markieff Morris is fouled (NU now has 10 team fouls to KU's two), and he does his part, making both of his free throw tries. The crowd gives him a louder-than-normal ovation.
Markieff follows with a straight-on three that falls through, and Sadler calls his final timeout. No one can say the coach didn't try to break up this KU run.
KU with a steal, and though Xavier Henry misses an alley-oop attempt, Markieff follows with a lay-in. That's seven straight points for Markieff, who checks out to a nice ovation a few seconds later.
KU's transition offense is rolling now, as Collins gets a three in rhythm and buries it from the left wing.
Sek Henry hits a three, and the Jayhawks suffer from extremely poor ball-handling on the next two trips. Taylor loses control on the first possession, and Collins dribbles it off his foot on the second. Self drops his head to rub his forehead both times, looking like he needs some Advil.
Anderson drops a three, and Self calls timeout.
Diaz puts in a baseline shot, and an 8-0 NU run has trimmed KU's lead from 19 to 11.
Taylor misses a three, but Marcus hustles to track down the rebound. He dribbles into the lane to put in a layup to break KU's drought.
With a double-team on him, Aldrich finds Marcus across the lane. Marcus finishes with a layup off the glass for his 20th point.
Sek Henry nails a three, but time is running out for the 'Huskers.
KU 56/NU 46 — 7:45 left in 2nd half
Markieff Morris with a block, and it starts the fast break. Collins dishes to Taylor, who feed Marcus under the basket for a layup and foul. Collins once again shows his emotion, yelling out to the students on the baseline. Sadler calls another timeout, as things have turned bad for the Cornhuskers quickly.
Ubel gets an offensive rebound, but Reed rips it away from him. The KU junior dives on the ground to roll the ball to his nearest teammate.
Brandon Richardson picks up his fifth foul at the 9:55 mark. He's led NU in scoring for 13 straight games, but he won't today, finishing with just one point.
KU with another missed free throw (the Jayhawks are 6-for-14 from the line for 42.9 percent), but Aldrich muscles away the offensive board. Xavier Henry takes a few dribbles into the lane before hitting the 16-footer. That's the Xavier Henry we saw earlier this season.
Aldrich has had a huge impact in there defensively in the second half. Diaz tries a baseline shot over him, but it comes up short for an airball. Reed clears the rebound.
Aldrich is fouled, and after making the first free throw, he misses the second. Self buries his head in his hands. Luckily for KU, NU was in the lane early, and Aldrich swishes the second attempt of his second attempt.
KU 50/NU 44 — 11:38 left in 2nd half
Reed misses a three, but Aldrich is right there to snare the board and put back in the easy layup. KU regains the lead.
Another unforced turnover from NU. The building is starting to come to life.
Aldrich is fouled on a turn-around, but even he is missing free throws. He gets the second one to roll in, and KU has a 6-0 run.
Hawkins-Cole gets an offensive rebound, and Aldrich swats him with a whistle. Aldrich, usually mild-mannered, rips out his mouthpiece and turns around before screaming, "That's terrible." Aldrich has three fouls, and he needs to avoid his fourth.
Aldrich is fed up now. He gets it on the block, draws a double-team, spins to the baseline, then throws in a one-handed slam with a foul, screaming out to the crowd afterwards. The fans erupt. As an added bonus, Aldrich hits the free throw.
Following a Standhardinger missed three, Aldrich grabs the rebound. On the other end, Standhardinger flops in the lane with no whistle, and Markieff Morris finishes with a layup. NU probably gets that call at home, but not on the road.
Sadler calls timeout, as KU has scored 11 of the last 12 points.
KU forces a shot-clock violation, and Collins is pumped. He screams, "Yeahhhh" out to the crowd, pumping his fists up and down. KU fans scream with him.
NU 43/KU 42 — 15:09 left in 2nd half
Collins hits a three out of the break. No staring at Sek Henry this time.
Standhardinger throws a pass out of bounds, and just as KU grabs some momentum, we have our first media timeout.
NU 43/KU 39 — 15:44 left in 2nd half
Xavier Henry returns with a bandage over his eye. Though my view was blocked before halftime, that must have been the no-call that got Self the technical foul.
Diaz puts in a layup over Aldrich, and on the other end, Morningstar's alley-oop attempt to Marcus Morris is caught by an NU defender.
Xavier Henry misses a wide-open three from the side, and as slow as NU is playing, those misses hurt.
Sek Henry puts in a long three at the end of the shot clock, and NU takes a 38-37 lead.
Xavier Henry follows with a nice bounce pass to Marcus, who puts in a layup with a foul. Marcus misses the free throw, though, and KU's poor free-throw shooting seems to have continued right into this game.
Xavier Henry gets caught up on a screen, and Anderson drains a three from straight-on. Self summons Reed to check in for defensive purposes. NU is 6-for-8 from the three-point line (75 percent).
Marcus Morris misses a short shot, and on the other end, Diaz puts in a layup. Timeout Self, as NU has its largest lead of the game (four).
KU scoring — Marcus Morris 12, Collins 8, X. Henry 6, Withey 4, Taylor 3, Robinson 2, Reed 2.
KU was 14-for-30 from the floor (46.7 percent), 5-for-11 from three (45.5 percent) and 4-for-8 from the free-throw line (50 percent).
NU was 11-for-27 from the floor (40.7 percent), 4-for-6 from three (66.7 percent) and 7-for-11 from the free-throw line (63.6 percent).
KU out-rebounded NU, 19-18, in the first half. NU had 11 turnovers, while KU had nine.
Halftime thoughts
• I mentioned this already, but 14 points in the paint is too many for tiny Nebraska. KU should get a boost with Aldrich back on the floor in the second half.
• Through three halves of this series this year, I think we've established that neither team can guard the other from three-point range.
• I'm all about getting motivated for a game, but Collins needs to be careful with this little duel with Sek Henry. Collins was just 3-for-9 in the first half and wasn't getting anything easy from inside the three-point line.
• Marcus Morris with 12 points and eight rebounds at halftime. Once the most inconsistent player KU had, he's become perhaps the most consistent.
KU 37/NU 33 — Halftime
Withey puts in both ends of the one-and-one. The rest of the team takes notes.
Robinson gets beat on a cut to the basket, and NU's Jorge Brian Diaz puts in an easy two. Fourteen of NU's 31 points have come from in the paint.
Robinson is like a statue in the lane, and Quincy Hankins-Cole gets the rebound over him. Robinson picks up his second foul, and he heads back to the bench — more for his play than his fouls, I'm guessing.
Ryan Anderson yells "Rebound" from the NU bench on a pair of Withey free throws. It works, as Withey clangs them both. Marcus Morris cleans up the rebound, though, tipping in the follow. KU is getting all the offensive rebounds lately.
Self is upset over a no-call, and on a timeout, he yells "Unbelievable" to the ref across the court. Immediately, he is T'ed up. That's a bad technical for Self, as with only 19.3 seconds left in the half, it can't be used to get his team fired up.
Taylor sticks close to Richardson, and he gets a five-second call on the NU guard. Collins misses a floater at the buzzer, and KU takes a four-point lead into the break.
KU 33/NU 29 — 3:13 left in 1st half
Withey squares up and knocks down a 10-foot jumper. Nice touch from the freshman.
Robinson with his second foul. Seven of KU's eight fouls have been on the big men.
KU has been active defensively. Collins pokes the ball away, but he can't save it from going out of bounds after a headlong dive. Taylor nearly has a steal, but he can't keep it from going over the end line. Brandon Ubel ends up beating the shot clock with a three.
Marcus kicks out to Collins, who drains a three. Again, Henry gets the stare down. Ubel answers with his second straight three, though.
Ubel tries to go inside, but Withey blocks his turn-around. After snaring the rebound, Withey is fouled.
KU 28/NU 21 — 6:45 left in 1st half
Brady Morningstar does his patented move on offense, driving under the basket before jumping to feed Marcus Morris for a layup. I'm sure when Morningstar first goes into the air on that move, it scares Self every time.
Robinson is called for a charge, as Ryan Anderson falls to the floor. NU coach Doc Sadler challenged his team after its last game against Kansas State, saying that his players weren't playing team defense and weren't willing to sacrifice their bodies for charges. The 'Huskers must have been listening, as they already have two charges taken today.
Jeff Withey checks in for his first action.
KU is giving up a ton of layups inside. It's amazing the difference when Aldrich isn't in there defensively. Following a layup by Lance Jeter, Self uses his second timeout of the first half with KU up 24-21.
Collins puts in a tough, guarded jumper with the shot clock running down.
Standhardinger is blocked by Withey, and the ball caroms off Standhardinger's shoulder and out of bounds.
Taylor penetrates the lane, then throws a nice lob pass to Marcus for a lay-in. Marcus has 10 points in the first 12 1/2 minutes.
Collins takes a charge on Jeter. It seems like Colilns has taken a lot of charges in recent games.
KU 20/NU 13 — 11:53 left in 1st half
Xavier misses his first three, but Marcus Morris throws his body into the lane, ripping down a board before getting fouled on the way back up. He misses both free throws, making him 2-for-4 from the line today.
Markieff Morris gets called for a cheap offensive foul, and that's his third whistle. Thomas Robinson will get some early playing time.
Xavier Henry tries to dribble before he grabs an offensive rebound, but he leaves the ball behind. Realizing his mistake, he dives back to recover possession. Great effort from the future pro.
Cole Aldrich is called for a foul from the backside, and that's two whistles on him. Meanwhile, Christian Standhardinger puts in the layup with the whistle, and he screams into the air with his fists extended. Interesting show of emotion on an opposing team's court.
Marcus Morris misses a short shot, but Thomas Robinson slams home the rebound with some authority.
NU scores the next four points, though, helped by a Tyshawn Taylor turnover. Self calls timeout, and KU's interior defense isn't the same without Markieff and Aldrich in there.
Out of the break, Taylor spots up for three and drains the long shot. KU is now 4-for-6 from three.
Tyrel Reed follows with a one-handed floater on the baseline that falls through. It looks like Reed has some tape on his left wrist, though it doesn't seem to be affecting him too much.
KU 13/NU 7 — 15:53 left in 1st half
After two made free throws from Marcus Morris, KU immediately goes to its full-court press. Remember, the Jayhawks used this tactic to wear down the Cornhuskers in the last meeting. Ryan Anderson drains a three in NU's first possession.
Xavier Henry gets an open look from the right wing, and he swishes the shot. That's good for KU fans, as Henry has struggled mightily with his shot in Big 12 play.
Brady Morningstar draws two defenders, then tosses a crosscourt pass to Henry for another three. Swish. The crowd has been a little extra loud with Xavier's three-point makes today. He's already up to six points.
NU must have done some studying, as Sek Henry motions to his teammates what KU's play is right after KU coach Bill Self relays it to Sherron Collins.
Morningstar with a swipeaway, and he comes away with a steal. After dribbling up the court, he drives to draw two defenders, then pitches to Collins for a three. Collins stares down Sek Henry the whole way back. I think Collins read the quote from Henry in this story.
Maybe Marcus Morris did work on his layups like he said he was going to after the Colorado game. After getting an inbounds pass from Collins, Marcus lays it in over two defenders.
4:10 p.m.
Our pregame chat is open and available by clicking this link or the link in the upper-left corner of this blog. I'll be talking there until gametime.
Just a reminder to use the "Submit a question" link to post a score prediction, to submit a comment or to ask a question.
Today's random question: What is the best Nintendo game?
3:57 p.m.
Welcome back to the Newell Post Live, coming to you from Allen Fieldhouse where the top-ranked Kansas Jayhawks are getting set to take on the Nebraska Cornhuskers.
We'll get to our normal pre-game chat later, but first, here are some notes about Nebraska, which enters with a 13-9 record.
• Nebraska has made 39.7 percent of its three-point attempts this year, which is good for 17th nationally. The Cornhuskers made 11 of their 21 three-point attempts (52.4 percent) in their last game against KU.
• NU is coming off a poor defensive performance at home in a 76-57 loss to Kansas State. The Wildcats made 49 percent of their shots while out-rebounding the Huskers, 37-28. KSU also had 38 points in the paint to NU's 22.
• NU plays the 293rd-fastest tempo in the NCAA.
• Nebraska is 5-13 against ranked teams under coach Doc Sadler.
• Guard Brandon Richardson has led NU in scoring for 13 straight games.
• NU averages just 12 turnovers per game, but the Huskers force just 11.7 turnovers per game.
Be sure to vote in our poll on the left, and use the hashtag #kubball to have your Tweets appear in our grid.